BECOMING WORLD'S BEST CHILD MODEL IS DREAM COME TRUE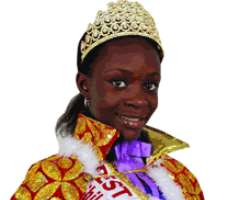 Wendy Kasunmu
Miss Wendy Kasunmu, who was recently crowned in Bulgaria as Best of the Best Child Model of the World, has returned to the country with more grace, panache and confidence.
The JSS1 pupil of Jiba College, Surulere, Lagos, revealed at a press conference organised by her parents, Mr.& Mrs. Kasunmu that her dream is to become famous like American Naomi Campbell, internationally recognised Nigerian models, Oluchi Onweagba and Agbani Darego.
According to Wendy, the urge to become a model started three years ago when she began to watch Fashion TV on DSTV. 'I saw different people cat-walking and I said I want to be like these people when I grow up,' she says.
Bold and outspoken Wendy hinted that one of those who supported her dream was Mr. Bayo Adegbe of Modella Couture. 'Not only that Mr. Adegbe designs all my outfits but he also gives me advice to avoid junk foods like: pizza and ice cream. He also teaches me etiquettes and how to sit and walk as a professional model.'
Wendy started her modelling career at age 7, when she contested and won Little Charming Princess 2007 (Nigeria), Best Catwalk Kid Model 2007. The same year, she represented Nigeria at the 7th International Children's Festival of Beauty & Talent in Antalya, Turkey and she did the country proud when she won the title of Little Miss World Model, 2007.