TOYOTA WARNS ABOUT FAULTY ENGINES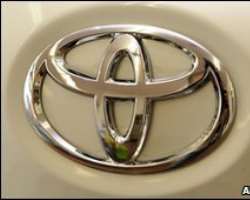 Japanese car giant Toyota has warned about potential faults with the engines of about 270,000 cars it has sold worldwide, including the luxury Lexus.
It said the engines could stall while being driven, but affected vehicles have not yet been recalled.
This is the latest problem to hit the carmaker, which has recalled more than 10 million vehicles globally since last September.
Fresh figures show Toyota's June sales were up 26.7% on a year ago.
A spokeswoman for the firm said some vehicles might have a problem with the valve spring in their engines, which could cause engine failure.
The defective 4.6-litre V8 and 3.5-litre V6 engines had been installed in eight top line models including some hybrids – the Lexus GS350, GS450h, GS460, IS350, LS460, LS600h and LS600hL as well as Crown sedans.
No accidents had been reported, the spokeswoman said.
Labour disputes
Toyota shares were down by more than 2% on Thursday.
But Kazaka Securities analyst Yoshihiko Tabei said investors would not be too perturbed, because if a recall occurred, costs would be limited.
He added recalls were not usually viewed negatively as long as they were carried out swiftly after problems emerged.
"It's not as if there has been an accident caused by the possible defect. Investors are not worried as long as carmakers act quickly to address quality problems," Mr Tabei said.
He said that labour disputes at parts suppliers in China were currently of far greater concern to the car industry.