Now, and Not Tomorrow!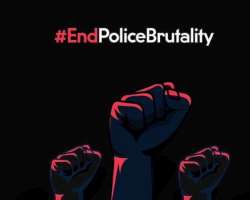 John ran as though a wild animal was chasing him. "Open the door, open the door." He said as he ran towards his doormot. "Close the door, close the door." He instructed his wife, hurriedly, panting as he entered the house. "What is the matter?" his wife asked. "Those people again o." John had a hard time trying to stabilize his breath's pace. "Wetin happun? Who dey pursue you like this?" His wife was at alert, wanting to know the next move. "Dey don kill Chike and three young men for road, beside that filling station for our round-about." Shock, fear, disbelief, goose bumps filled his wife. "Dey come enter one house dey harraass people. Wetin do me now na nearly cannot kill a bird. Abeg close window, lock everywhere. Carry all the slippers for our doormot enter inside." John continued, still with a trembling voice from the trauma of seeing his fellow men killed, especially Chike, his neighbour's son. With great shock trying to understand the situation, his wife asked "Se na armed robbers kill Chike dem? which people dey do this thing?" "See, if na armed robbers dey terrorise, e beta. At least, we fit call intervention team. Na people wey get legal license to gun; people in uniform, na dem dey brutalise us. We don turn animals for this country." John explained.
"Ah! They have killed my only son. They have rendered my living child a corpse. God!!!! What will I do now? My only hope. My only future. My only source of livelihood. Who will I run to? Just to buy fuel for filling station, they wasted him life like that. Mmmmm, this is too much for me to bear. Ah!" Olisa heard the mother of the deceased wailing and mourning the tragic death of her son and only child. People tried to console her as well as cursing the killers of the only hope and future of this humble woman, pointing out the need for a protest.
Meanwhile, the angry mob and friends of Chike, both those that knew him closely, and those from a distance, were enraged. "We no go gree!" They shouted. They were ready to endanger their lives in avenging the death of their dear friend. "Blood for blood! An eye for an eye! This nation will know no peace until government give us justice. We go trouble the leaders dem until dey dissolve this brutal team. Dey say we be lazy Nigerian youth but na dem dey thief our phones like say na their right. Dem tagged all of us yahoo yahoo, both the ones wey no follow, all because our hustle dey pay small small. Dem tag us criminals, but na dem dey murder, brutalise and commit all atrocities wey dey against fellow human rights. Government call dem Special Anti-robbery squad, meanwhile, na Pro-robbery and murdering squad dem be. Dem go say na strange abi stray bullet, dey take kill, but na lie. Dem dey kill on purpose. If arms and ammunition na to protect citizens, how come dey don turn am to weapon of mass destruction? Yet, government no gree wipe off this infectious squad wey dey add pain on top of the ones we dey try manage for this country. We sef go shed blood. We sef go waste the life of their loved ones and dem own, the way dem take waste our own. As far as this people dey, we sef go kala dey kill back, dey go. Leader wey leave him people to die for the hands of these merciless and heartless terrorists wey guise as uniform men, go see their own children die, too. We no get life again for this country. Die na die. All na die. But, we must fight for our cause."
Olisa was perplexed at the height of anger displayed by the youth in his street. They had their armours- planks, matchete, dagger, chains, and so on, to protest. They had spilled some blood. Chike's death broke the pitcher. Olisa was determined to convincing the youths on a peaceful protest, and reminding them that they are the leaders of tomorrow, and that together can make a better country. Hmm, It was God who saved him from the raging mob that he got a backlash of words and not of action. "I go commot your teeth join for Chike wey dem kill just now for our koro koro eye. Abi you dey high? Which leaders of tomorrow? Which bright future are you talking about? Which better country you dey talk about? Leaders of tomorrow, na him government quiet as dem dey kill their future leaders abi? Bright future, na him dem dey off our light for our different families combine? Make a beta kontry, na him dem take make our lives miserable. Come, Oga fine your levels now before we fashion you for where you suppose dey. Go talk to your beloved government make dem do the needful. Awon federal government ambassador. Federal government number one peace maker. Commot for here, before we show you the way now!"
Police Brutality must end. The government must rise up, and take actions to protecting the lives of her citizens. If we want Nigeria to be better; if we want the cooperation of the youth, and citizens, then, police brutality must end. If not, both children of the government, citizens, the uniformed men will become victims of revenge. There will be a mix up that will cause gross darkness and collective wailing.
A bill to end SARS and police brutality should be initiated and assented, NOW, and NOT TOMORROW.