D'BANJ CLICKS MUILTIMILION DOLLARS DEAL IN LOS ANGELES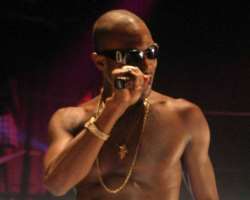 The Koko master now called Mr. endowed has surely stepped up his game big time in the music industry. The tall and handsome singer who is under Mo'Hits, a company co-owned by Don Jazzy, we learnt has just clicked another multimillion dollars deal in far away Los Angeles in the United State of America.
Though, the musical superstar, D'Banj is in the process of finalising the major international record contract "It was during a meeting at the record label that I work with (One of the largest international record labels), this particular meeting is a weekly meeting to review new and potential signings. I reviewed the items on the agenda and suddenly I saw the name of D'Banj. I was like ah na our boy?! (Didn't say that out loud though…hehe). The VP leading the meeting led us through how he "discovered" D'Banj at a recent event in LA.
From the figures they mentioned, our boy is getting close to $20m for him and million dollar budget for promotion and artist development in Nigeria – the plan is to give him a major international push. Even compared to what they offer 'urban' stars, the contract is way above that. Very major! I was proud o" Said a source in America who regaled us of the new development.