Jos Crisis: Court Sentences Police Officer To Death By Hanging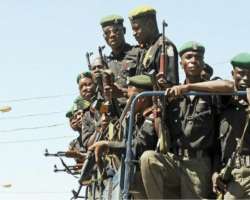 JOS, June 29, (THEWILL) - A Police Corporal, Mr. Emmanuel Ochiba is to die by hanging, nine years after he was arraigned for killing one Godwin Momoh during the 2001 crisis in Jos.
A court had earlier sentenced him to death finding him guilty of murder but the police officer had appealed the ruling of the lower court on grounds that only one witness testified against him.
Justice Bode Rhodes- Vivors who delivered judgment in the case said the court has been able to establish beyond reasonable doubt that the policeman shot the late Momoh at close range killing him, contrary to section 221 of the penal code.
The judge ruled that the evidence against the police officer though given by one eyewitness could be relied upon since it is a murder case.
One Barrister Jonathan Mawiyah had testified against the police man saying he was with the deceased on the September 12, 2001, when mobile policemen on patrol stopped them and asked them to identify themselves which they did, but that the accused ordered them to kneel down after which he went to the police van and brought out a gun and shot the deceased in the chest.
The policeman in his defense failed to bring any witness to support his argument that he was not the one that that killed Momoh saying there were sporadic shootings all over Jos on that day.
Based on that, the court upheld the decision of the lower court and sentenced the policeman to die by hanging.