Siemens Scandal: Mike Adenuga, Wife Received Bribes - Source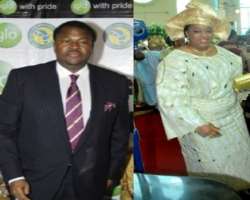 PHOTO: GLOBACOM CHAIRMAN, DR MIKE ADENUGA (L) WITH WIFE, TITI.

San Francisco, June 28, (THEWILL) – Dr. and Mrs. Mike Adenuga received bribe monies from the German company, Siemens, THEWILL has learnt from a reliable government source.
Adenuga, one of Nigeria's richest men and his second wife, Titi were allegedly paid more than two million euros over a period to assist Siemens secure various lucrative contracts with Nigeria's moribund telecommunications giant, NITEL, the source told THEWILL.
The source said investigations into the scandal by the Economic and Financial Crimes Commission, EFCC revealed that the bribes were paid in several tranches between 2001 and 2004 to Adenuga and Titi who thereafter laundered the funds to conceal the source.
"There is overwhelming proof that Mike Adenuga and Titi were direct beneficiaries of the bribe.
"They laundered the funds to avoid detection thereafter," the source told THEWILL.
Pressed further on the matter, the source declined to give specific details of the payments and would not discuss whether the Adenugas passed on funds to anybody or government officials linked to NITEL, so as not to jeopardize EFCC's ongoing investigations.
The Economic and Financial Crimes Commission, EFCC last week grilled Mrs. Gladys Alabi and Mr. Mike Jutubo, two directors of Globacom, a telecommunications company promoted by Mike Adenuga over the bribery scandal. They were thereafter released on administrative bail.
The EFCC over the weekend confirmed that Mike Adenuga has not made himself available to the agency for interrogation.
The billionaire had written a letter to the commission claiming he is part of the federal government delegation to South Africa to watch the opening ceremony of the world cup and that he would visit the EFCC headquarters when they return; the federal government delegation has since returned. Sources close to Adenuga told THEWILL over the weekend that the businessman has no plans of meeting with EFCC operatives now or in the near future over his involvement in the crime.
Globacom in a statement issued after it became public knowledge that Adenuga had been invited for questioning absolved itself of any complicity in the multi-million euro bribery. It said its business relationship with Siemens was a single contract transaction which was executed in 2003.
"It should be noted that the equipment supply and installation contract forms the basis of the only relationship that Globacom has had with Siemens, the statement said.
Attempts to reach Globacom's Head of Public Relations, Bode Opeseitan for comments were unsuccessful as his cell phone was switched off.
More to follow!