2011: YES, JONATHAN CAN CONTEST – EL-RUFAI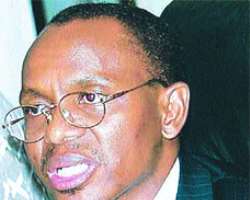 el-Rufai
Former Federal Capital Territory (FCT) Minister, Mallam Nasir el-Rufai has said that he saw nothing wrong in President Goodluck Jonathan contesting in 2011. He, however, urged Nigerians to reject those who have had opportunities to rule the country in the past and did not make anything out of it. He spoke exclusively to Daily Sun in Lagos last week. Excerpts:
Why are you in Lagos?
I am here to support the activities of the Save Nigeria Group (SNG). I am here to mobilise Nigerians to register to vote for their choice candidate and take a step further to protect their votes so that we can have real democracy in our country.
'The elections that we have had so far are far from credible and they have got progressively worse since 1999 when we had a semblance of true election. In 2003, it got worse and 2007 was a disaster. I am not proud of it because I was part of the government that conducted 2007 election.
'But we all know what happened. In many states, there were no elections. I was in charge of the Federal Capital Territory (FCT) and I can proudly say that in FCT, I made sure there were credible elections. And indeed, one of my crimes with the Peoples Democratic Party (PDP), is because the PDP did not win that election. I was not ready to allow rigging in the territory. But the elections got worse and I agree it is time for Nigerians to rescue their country.
People had the impression then that you were a member of the PDP…
I think I am still a member of the PDP, but I don't know for how long. I was very active in the PDP Reform Forum. We are trying to see what internal changes we can bring about in the party. But we are not making much progress in the party.
Now that you are back, what
do you want to do for Nigeria?
At age 50, I have been assigned responsibilities at higher levels at a relatively young age. Having attained age 50, I think my role, whatever it is, is to encourage and inspire younger people to be active in politics and to be active in public office and stand up to protect their future. I am 50. I am old. I am on my way out. But what I can do, I think, is to get young people to understand that being actively involved in politics is important. Politics is not for criminals only. It is for decent people. That is how it should be.
And getting into public office is desirable because we can't change our country unless we have a public service that works. And when I was young, I did not know that. I only figured it out over time. And this is what I want to spend the rest of my time contributing to movement, any organisation like the SNG that is trying to bring decency back into our politics and into governance.
That is what I think is my role.
If you say you are on your way out at just 50, what do you have to say about people in their 70s who still want to contest 2011 election?
They should not contest. And if they do, we should reject them. These people I call the 'crowd of 1966' are the people that terminated our first republic. They have been ruling this country in a critical manner and they should leave us alone. They should retire and let younger generation give this country a new direction.
We don't want them. And if they come out, Nigerians should reject them.
What is your take on the PDP zoning arrangement that is being made to appear as if it is binding on all of us?
I have given my opinion on zoning system even when I was in exile. I think zoning is a system that excludes a larger percentage of the population contesting for any office. I think it is wrong. I think a country like Nigeria needs the best people they can find for any position. So the positions of the president, the governorship position of the states, chairmanship of the local government should be thrown open to every one that is qualified and aspires to that office and let the people pick who is the best.
We should not have presidency by allocation or governorship by allocation or on geographical basis. Nobody chooses where he is born. The fact that you are from Lagos and I am from Kaduna is accidental. We didn't choose where we are. So, on that basis, when we begin to pick leaders on where they come from, I don't agree with that approach. It has been my opinion over and over. I believe the presidency of this country should be thrown open to people who are more qualified to contest and make Nigerians make their choice.
Let Nigerians say; we want another northerner President or we want someone else. But it is not for people to sit down in a room and decide that half of Nigerians cannot contest for any position. I am against it. I believe in merit above anything else.
Does that mean that President Goodluck Jonathan also can contest 2011 election?
Yes. President Goodluck Jonathan is qualified to contest 2011 election in my view. And even if (former) President (Olusegun) Obasanjo has a brother from Abeokuta (Ogun State), who is qualified to contest, I have no problem about that. I have no problem with someone from Sokoto or Kaduna who wants to contest. It should be thrown open. Let the choice be that of Nigerians. It should not be a few people saying that half of the country should not contest. I disagree with that.
Are you comfortable with the conduct of the House of Representatives members on Tuesday when they engaged themselves in fisticuff?
I think it is unfortunate. But having said, you know parliaments do engage in that kind of brawl. The Japanese Parliament and parliaments of many other countries engage in it. It is not something to be concerned about. Definitely, it is nothing to be worried about.
But I do think that the House of Representatives should find a better way of sorting out of their differences and I don't think the best way to do it is to suspend the members who disagree with you.
It is not democratic if you say a member accuses you of corruption, you should suspend him. I think there should be transparency and the allegation be investigated. I was investigated by Yar'Adua administration for three years. I came back to Nigeria to defend my name. So, people should stand up to defend their names.
To resort to blows, I think, is unbecoming of people who are supposed to legislate for our country. I think they would learn over time to settle their differences in a better way.
If Nigerians knock on your door and say you should come to be their president, what would be your reaction?
I am not a candidate for any office. I have said so several times because I think I have done my best. I have served this country to the best of my ability. I think it is time I stepped by a little and push forward others.
And, I don't think 150 million people of Nigeria can come to my house and ask for that. If that happens, it will be a different thing entirely.
But let me say that politicians play this game. They will say: 'Oh, you know it is my people that forced me to go.' No, you yourself want to go and that is why you instigate your people to force you to go.
I believe Nigeria has many talents from every part of the country and there are many who want to be president and they are also good. And if I sight some of them and I have it in my mind to support them, I will work with them in a way to make it possible.
For me, I want to take a break.
When you were in exile, did you miss home?
Yes, I did. I did. It was a traumatic experience that you cannot wish even your enemy. I missed Nigerian food. I missed many of my friends and family. Some of my family friends died and I couldn't attend their funeral!
But that was God's wish and I think there was a clear purpose to it that I have to go through that to learn a few things. I also improved myself by acquiring more degrees while in exile. I finished my law degree with the University of London. I got my Masters from Harvard.
So, it is not all wasted. It is hard a lot to be kept away from your country, be denied the renewal of your passport, and for your family to be detained at the airport when they visited you.
All this is part of life that one has to take as part of experiences to learn from and move on in life and do whatever you think you can to make your country a great better.
What's your position on the Uwais's Panel reports?
I think my respected elder brother, Justice Uwais and distinguished members of his panel did a very good job. And I think that the recommendation of the panel should be implemented in its entirety.
It is true that they consulted Nigerians. And if it requires the government to ask Nigerians to do a referendum to show their support for that reform, let them do it. It is only when we have credible election that we can link governance and accountability to the people so elected.
And unless we have that, those 'elected' would continue to operate with a culture of impunity. There is no alternative to credible elections. If we don't do it now, we will do it one day. So, why not just do it now?
Can you react to consistent agitation for state creation?
I am against state creation. I think we already have many states, many of which are not viable. Without the federating account and all this oil revenue, some states cannot pay salary. And I think that this country operated better when we had fewer states and regions that were competitive and were large enough to be viable.
I am against state creation because it can never solve any problem. It is just to create jobs for some people.
You have more commissioners, more governors, more Special Assistants. But in terms of development, you cannot see the benefit. I am against creation of more states. If there is a way to merge some states back, I will support that but I know it is not possible. What is done cannot be undone in the constitution. We can therefore step back and make what we have viable.
Many of these states I say cannot collect enough taxes to pay half of their workers' salary. So, without the tax paid, what can you call viability? We started with three regions. It became four, then, 12, 19, 21, 30, 36. And how are these states going to be viable? How can they deliver?
If we have to divide Lagos, I ask, to how many states? Lagos has 15 million people. If you want to use the population as a criterion, we have to divide Lagos. But Lagos in its federated mega city, it is not viable.
And Fashola is doing a great job. He is really showing Nigerians that this thing can work. Nigerians are not a disorganised people. They can be made to work. What we need in our states is good governance as we are seeing in Lagos and in some states in Nigeria and not more states.