DANGLE A BANGLE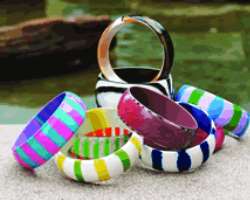 Bangles have been around for some time now, and might be around for a long time because they're so much fun. Bangles look great any day, any time. They accessorize an outfit better.Wearing bangles is no doubt an all time fashion both for men and women. It gives your make-up an extra finish and adds a touch of personality. But before wearing bangles you should keep few basic points in mind.
Ensure you wear bangles at the right time. Wear them with caution as they don't go with everything. Bangles with a classy evening dress is a big no-no. But if you're going to the beach, stack some bangles on your arm, and there you go.
If you want to pair some bangles with a simple summer dress, make sure the bangles and the shoes match (or the bangles and your tote).
The size of our hand varies from person to person. Make sure that the size of your bangle is appropriate to your size. Before buying any bangles, move it up and down your arm and around to see how far it slides up and down. Wear the perfect size.
There is nothing worse than to wear a loose fitting bracelet that slides towards your elbow every time you hold anything up. Again a very small size will cut off the circulation of your arm. Very thick bangles to a thin wrist and very thin bangles to a fatty hand look ridiculous.
Before buying any bangles check whether there is any sharp edge. Sharp edged bangles may hurt you. It may also cause damage to your delicate fabric if it gets entangled to your dress. Sharp edges may catch threads of your outfit if there is any embroidery or loose thread.
Before wearing bangles, make sure that it goes with your outfit. Bangles are available in different materials such as gold, silver, wood, plastic, pearl, glass, etc. Generally at daytime, with casual outfit, wear bright coloured simple bangles.
Bangles made of glass are available in different colours and goes excellently with casual dress such as jeans and flat sandals. Glass bangles are available in two types, thick and thin. Wear them with same colour of handbags. Glass bangles are trendy, feminine and dignified.
You can also wear different coloured plastic bangles. But for the evening party it is better to wear bangles made from gold, silver or other precious metals and studded with different coloured precious and semi precious stones.
Moreover they create a jingle which adds sweetness to the evening party. Silver and gold bangles look nice when worn together especially when they are very thin in size.