OSHIOMHOLE'S GIANT STRIDES, PDP'S NEMESIS – OMO OJO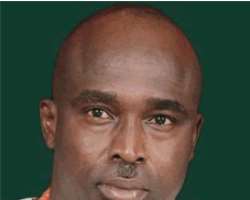 Omo-Ojo
Although keen observers of the Action Congress (AC) in Edo State have expressed concerns over the mass exodus into the party, Governor Adams Oshiomhole's Special Adviser on Arts, Culture and Tourism, Mr. Orobosa Omo-Ojo (JP) has allayed fear of possible implosion.
According to him, 'intrigues are part and parcel of politics. So there will always scheming and jostling for position but this will necessarily not bring quarrels if there is transparency and fair play in decision-making process. The AC is hinged on this equal rights and justice and there will be reason for crisis after all.'
According to him, the defection of politicians from other parties, especially those from the Peoples Democratic Party (PDP) is a tribute to the developmental strides of Governor Oshiomhole in the state.
It's about a year and half since you joined govt; as a renowned publisher and critic, what does it feel to be on the other side?
Yes, it's almost two years going since I was invited to serve the good people of Edo State by the state Governor, Comrade Adams Oshiomhole as his Special Adviser on Arts, Culture and Tourism. I will say its been a learning process, especially the art of working with different people with varied opinions and ideals. Coming from the newsroom background where we encourage reporters and correspondents to think individually most times in order to submit exclusive reports, I have spent greater part of my time in government adjusting and shifting from my comfort zone. However, the experience is unique. There is nowhere else I could have gained this outside government.
Do you still miss the newsroom? Or has journalism lost you for good?
I will always miss the newsroom because of the liberty it provides for creativity of mind. I miss the newsroom because I have lost my potency to be a voice of the people of Edo State who for over nine years looked up to me for honest, fearless and independent analysis of issues affecting the socio-political and economic activities of our people. Whatever I do and wherever I go I must return to the newsroom one day because nothing else gives me satisfaction than flipping through each edition of my Midwest Herald every weekend.
Looking back now, what were those initial challenges?. Did you have problems settling down amidst politicians?
Obviously, it was hard and tough initially acclimatising to my new role as a politician. The challenges were numerous. For instance, I needed to learn fast that politicians do not mean what they say most times. So I was always left alone to prosecute ideas and communal issues jointly agreed to by a group of people who supposedly share the same position on some very critical decisions.
Frustratingly, you don't get explanation from any of those that abandoned their earlier agreed views. Politics is very dynamic, ever shifting, explaining why it is said that politics is all about self-interest. The other area of challenge is the lack of strategic planning and inter-dependency of ideas. Most politicians are given to protecting their small empires and the end result is the multiplication of plans and formation of tiny interest and power blocs, which eventually have the tendency to slow the pace of activities.
It took me time to adjust to this painful reality because again, my 24 years experience as a media practitioners taught me to be proactive and be a team player with the flagship's interest at heart. We also bury our individual interest to ensure the magazine or newspaper hits the newsstand promptly. I can't actually say I have settled down because of my concept of leadership. It is safe to say I have adjusted to the situation.
The rumour mill is agog that you are being groomed for elective office. Can you confirm it?
With each passing day, I have become more concerned about the quality of leadership prevailing across the broad spectrum of political offices in Nigeria and my state. Hard as I have tried to resist the temptation of actively getting involved because of my quest for self-preservation, it is becoming impossible to refuse calls by patriotic stakeholders urging me to seek elective office. As a result, I have lately been involved in consultations with my constituency on how best I can serve them.
So, I can safely say yes, I have been approached. And after due consultation I have accepted to seek the Action Congress ticket to represent Ovia Federal Constituency in the House of Representatives. Sadly, the area has nothing to show for the almost 12 years of democracy in Nigeria. The fear of stakeholders drawn from the 23 wards that make up Ovia Federal Constituency that they may end up having a colourless and uncreative representative next year informed my decision to accept the challenge to stop the emergence of such persons.
Without hesitation, my experience as a civil rights activist and newspaper publisher provides me the necessary tools to bring the change that can be trusted for my people who are in dire need of productive and progressive leadership that will ensure adequate representation for the repositioning of the area.
Lets travel down memory lane a bit…what informed your decision to accept to be in Oshiomhole's campaign train even with the intimidating PDP machinery then?
Basically, I am a risk taker. My life is a bundle of risk and God has always been fair to me. He has delivered me from all the challenges that came with such risks. For example, few months after my National Youth Service in Ibadan, I left a very comfortable job with Evans Book Publishers in Ibadan to start a journalism career with the late Chief Chris Okolie's Newbreed and President magazines in Lagos.
My colleagues in Evans thought I was mad and unreasonable because Evans was a place then most young graduates lobbied to be. But the newspaper advertisement in the Guardian newspaper challenged me to take the leap into a strange turf. I still remember the eye-catching copy. 'Young artists and writers with vision wanted.' The interview lasted for two weeks because over 800 young graduates applied but I was lucky to be among 50 persons that got employment and I left the comfort of my two-bed apartment in Ibadan to squat in a room apartment in Lagos.
Less than one year later, I left Newbreed to join Mr. Ted Iwere, managing director of Independent newspaper to start his Business Magazine, Nigeria's first financial monthly. It didn't take long also before I plunged myself to start my own publication in 1990 called Corporate Journal, after resigning as production editor, a job that had official car and other pecks. Thank God Corporate Journal became the standard bearer in financial journalism in Africa and gave me and my colleagues unprecedented career and other benefits.
But upon my invitation by Comrade Oshiomhole to join in the revolutionary movement that eventually sacked the Peoples Democratic Party, I will say the sincerity of Oshiomhole attracted me to serve in his campaign organisation as Director of Media and Publicity. Before he approached me, my title, the Midwest Herald and my army of colleagues in the state and nationally considered him an outsider in the 2007 governorship contest.
But after my initial meeting with him, which was initiated by him, I discovered he was the most appropriate person that could have provided the leadership that will galvanize the army of frustrated youths, women and students and non-politicians like me who wanted the PDP flushed out hurriedly. Others then were pretenders who lacked the courage and language, so it wasn't difficult for me to accept although I was worried about losing my independence as the publisher of a newspaper most people believed formed the most formidable opposition to government in the state.
On the so-called intimidating PDP machinery in the state, I realised that the people that constituted the party were generally cowards who will abscond when faced with planned resistance. By that time, my newspaper was in court with virtually every so-called big politician in Edo State. Chief Tony Anenih drag us to court in 2003 and has failed to pursue his case.
The former impeached speaker of the state House of Assembly, Mr. Friday Itulah dragged Midwest Herald to court on account of a cover story. There are others that were withdrawn or dismissed for lack of diligent prosecution. For me, I was in a familiar terrain. If anything, I encouraged Comrade to face the PDP because I could tell that they were a pack of noise-makers whose only strength was naked violence.
Can you still take that risk again, if you can turn back the hands of the clock?
Yes, I will accept this challenge again and again because life is more than self-serving. Life is more interesting when you put smiles on the faces of people, especially the underprivileged. Often, we hear people speak about change, change, change. But no one wants to make himself available as the agent of change. I believe so much in Mahatma Gandhi's philosophy that 'We must become the change we want to see.'
When good people fail to make themselves available as agent of change, the dreadful ones who are mainly rascals take over. That was the position in Edo State before we came in. Yes, looking at the economic cost to my businesses, I may be tempted to refuse the offer but the satisfaction of history to me is much more important than the financial comfort that may have not come.
The government is almost midway into its tenure, how would you describe the journey so far?
Fantastic. Simply fantastic because at the point we took over the leadership of the state, everything was rudderless. The PDP administration, especially that of Prof. Oserheimen Osunbor was a complete waste as nothing was on ground to signify real-term-development.
The lack of planning, whether short, medium or long-term, made mockery of the political system. Roads were constructed without designs, and failed quickly within five to six months of construction. Pupils studied in classroom with leaking roofs, and sat on bare floors. Primary health centres only existed as buildings without primary health officers and drugs. Youth restiveness was high with attendance insecurity in the state.
But the hopeless situation has given way to a season of dependable hope as a result of reasonable planning that has started manifesting into comprehensive development of infrastructure across the state. Presently, there are over 50 roads under construction, lust just the PDP kind of roads but roads with sidewalk and drains. Schools are being renovated, with the introduction of model schools that will eventually bring back boarding system to public schools in the state. Also, hospitals are being reconstructed and on completion they will be equipped with necessary clinical equipments. The security situation has improved as a result of the partnership between the state and the police.
Honestly, with the benefit of history and records I make bold to say that things have change for the good in the state. We are not there yet but the journey is steady and sure. There's also the fear that it may lead to crisis, i.e implosion, arising from fight for space…
The honest truth is that, the present developmental strides of Governor Oshiomhole has become a threat to the PDP and its' leaders and they have lost focus not knowing how to respond. As a result, their members are disserting the party for lack of leadership and also to appreciate the good work Mr. Governor is doing.
The administration has not discriminated against anyone in the execution of projects in the state. We have not considered only areas that we won, but evenly spread the various on-going projects in such a way that they will affect the lives of everyone. This is one reason responsible for the influx of PDP leaders and their members into the AC. The governor is a motivator and sincere leader who everyone appreciates for his progressive leadership.
As for possible implosion, I don't share your view because it's not the size of party that brings disaffection, but the insecurity of the leadership of the party. Political scientists have advanced the position that political parties must constantly embark on regular membership drive to enlarge its fold. The problem that led to the PDP crisis in the state is not with the size but the overbearing influence of Anenih who introduced politics of imposition of unpopular candidates on his party members.
Government is like an elephant and when you have a fair-minded person as a leader, there will be enough to go round without any fight. Intrigues are part and parcel of politics. So there will always scheming and jostling for position but this will necessarily not bring quarrels if there is transparency and fair play in decision-making process. The AC is hinged on this equal rights and justice and there will be reason for crisis after all.