Jega Sees Challenges To Free Vote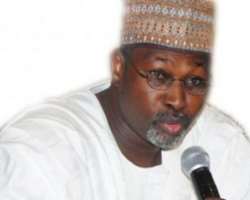 PHOTO: PROFESSOR ATTAHIRU JEGA.

Nigeria's new elections chief said on Wednesday the country faced "tremendous challenges" implementing reforms in time for polls due by next April and said establishing accurate voter lists was a vital first step.
An electoral roll riddled with fictitious names and omitting legitimate voters was among the many problems of Nigeria's last elections in 2007, polls so marred by ballot stuffing and voter intimidation that observers deemed them not credible.
President Goodluck Jonathan, who took over as head of state last month after the death of late President Umaru Yar'Adua, has made avoiding a repeat of the 2007 fiasco his top priority.
"We know the challenges are tremendous in terms of ensuring that we bring free and fair and credible elections," Attahiru Jega, the incoming head of the INEC electoral commission, told the Senate at his confirmation hearings in the capital Abuja.
"I am certainly aware the credibility of the elections come 2011 will to a large extent be predicated on the credibility of the voter register," he said.
Jonathan nominated Jega, a respected academic, two weeks ago to head the Independent National Electoral Commission (INEC). His appointment was met with cautious optimism by political parties although many warned deep reforms were needed.
The 2007 election that brought Yar'Adua to power marked the first handover of power from one civilian president to another.
But children were reported to have been included in the voting lists, while voter registration machines were found in the private homes of politicians.
Sceptics question whether Jega will have time to implement meaningful reforms in the few months left before election campaigning is due to begin.
Yar'Adua had also made electoral reform one of his priorities but little progress was made.
Candidates and voters decried widespread irregularities in a governorship election in the southeastern state of Anambra in February, a poll seen as a litmus test of how far Nigeria had come in improving its electoral system.
Would-be voters across the state complained that their names were not on electoral rolls. Local observers said false names such as "Nelson Mandela" were on lists that appeared to have been tampered with, while legitimate voters were turned away.
Jega acknowledged corruption within INEC was a "very serious problem" that needed to be addressed.
He said he also supported campaign finance reform to put an end to the massive political influence from so-called godfathers -- powerful unelected figures who have in the past used a combination of patronage and the threat of violence to ensure success for their chosen candidates.