ACTING NUDE IS NO BIG DEAL, SAYS NOLLYWOOD ACTRESS, AMAKA OKERE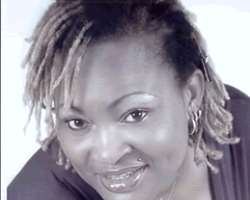 Amaka Okere
Tattoo-loving Nollywood actress Amaka Okere, surely intimidates most Nigerian men with her towering height.
Surprisingly, with over 30 movies to her credit, the busty actress, maintained that her tattoos, have given her more attention and recognition than the numerous flicks, she has thrilled in.
The dreadlocks-donning thespian is fast winning the accolades of fans and moviemakers alike, with her acting prowess.
In a recent chat with Daily, the single mother of one spoke on a wide range of issues, with emphasis on those germane to her burgeoning career in Nollywood.
What's been happening to you and your acting career?
Nothing much, I have been working hard and doing my own stuffs. Another good news I would like to share with you and my teeming fans is that I'm now a graduate. I graduated this year and I can't stop thanking God, because He has done so much for me and I will not stop thanking Him for everything. Even my last year was very okay. It's been blessings upon blessings for me since the beginning of this year.
I want to achieve a lot this year, of course, I have been around since, 2004, but this year, I see myself hitting it big. Two years ago, I delved into beauty pageantry as one of the organizers of the Miss Valentine and that partially took me away from the industry. I also package and manage models, aside my acting career.
Now that I'm done with my studies, I have finally come back fully into Nollywood and want to also claim my rightful position. Also, I will be crossing over to feature in some Yoruba movies; I already have lovely offers. I speak Yoruba fluently, and it's going to be an added advantage.
How many movies have you shot this year?
I have shot close to six movies this year; in fact, I just got back from the location of a new movie that will soon hit the airwaves. I will not say much until the soap is out…
Aside acting and handling models, what other creative ventures are you into?
Ok, I'm also into the business of buying and selling. In the next couple of weeks, I will be unveiling elaborately, my next big project. It would take me to the next level of my career.
Any plans of going into movie production?
Not really, if I wanted, I would have done that a long time ago, but was advised against it. So, I don't see that happening soon, may be, later.
What was it like when you featured in your first movie in Nollywood?
It was cool and memorable and the movie was entitled Ghetto Crime, and I starred alongside the late J. T. Tom West. He really encouraged me on that set and helped in bringing out the very best in me. Sincerely, I still miss everything about him, most especially, his advice, words of encouragement and brotherly love. That movie cannot be forgotten in a hurry.
Why this special attraction for tattoos?
Nothing much, I started wearing them over two years ago. I proudly wear them because I love it and it also attracts men to me. If you care to know, I have five lovely tattoos all over my body. I have one on my chest, very close to my cleavages, another on my breast, my arm and beneath my buttocks. I don't want to reveal where the last one is located. That one is special and very dear to me.
Nigerian men, how do they react or view your tattoos?
Most men react very crazily to these tattoos, the daring ones even point at them. They also complement it a lot, but none has ever dared to touch it, because my size intimidates men a lot; I'm a six-footer. Some even argued I have wild looks, but if you judge me with that, you will be very wrong. My Zodiac sign is Aries, and that makes me very romantic, loving and jealous, in fact, you can add possessiveness to it.
And what is their take on your dreads?
My dread is over three years, and I want to continue with it. You won't believe it, nothing special informed the idea, I started it playfully on set and before you could say Jack, it stuck with me.
How crazy are you in real life?
I am not that crazy, but I love crazy things a lot, but surprisingly too, I'm a very shy person and most people find this very hard to believe.
What would you say has been the craziest thing you have ever done as an actress in Nollywood?
It happened while I was clubbing with some of my pals, sometimes ago, each time I remember it, I still cannot believe I did it.
Let's delve into your background?
Whao! I am an adult born and brought up here in Lagos. I had my OND in Accounting from the Abia State Polytechnic, but currently a graduate from the Lagos State University, where I studied Business Education, in fact, I just graduated. For your information, I'm also a single parent with a lovely baby girl, who is my all. We are six in my family and hail from Delta State.
I did not marry my daughter's dad because it did not work out and we decided to go our separate ways.
Is marriage on your mind?
Sure, every right thinking woman wants to be married. It is every woman's dream to be married. I am single and seriously searching for my own man. I look forward to being married soon, but can never go back to my daughter's dad. Please, lets not go into that area, is strictly a private matter, which is now part of my past life.
Does your single status weigh you down?
No, it does not, only that as human beings, you will sometimes miss the presence of a man in your life. There is no point for us to keep pretending, every single woman needs a man by her side. Sincerely speaking, it's not easy to be a single woman.
Do you have regrets about being a single mother?
Sincerely no, my entire world revolves around my daughter, so I'm happy having her then and now.
Who is that special man currently rocking your world?
Yes, there is somebody in my life, but the only snag is that I can't marry him. The reasons are not for public consumption.
Can anything make you quit Nollywood?
I don't think anything can come between Nollywood and I. I sleep, drink, eat and wake Nollywood.
Sincerely, I cannot count the joys and blessings that come with being a recognizable face in Nollywood. It has opened doors for me, gave me exposure, elevated me and above all, taught me about the true essence of life and living.
With the right fees, can you bare-it-all in movies?
Why not, since I have made up my mind to be a professional actress, it also means that I should and must be able to interpret any role given to me. For me, its just ordinary acting, which is make believe.
Is there anything new from you to Nollywood and your fans?
Sure, my next level is something that will shock the industry and the world in general, let me not say it till it happens, because we are still on it.