Oil Price Flux: Nigeria, Others Can't Rely on Static Growth Pattern – Babalola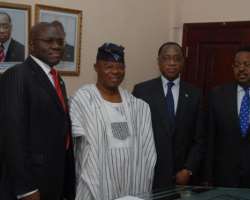 PHOTO: L-R: MINISTER OF STATE FINANCE, MR REMI BABALOLA, FIRST BANK PLC CHAIRMAN, MR. OBA OTUDEKO, MINISTER OF FINANCE, MR. OLUSEGUN AGANGA AND GMD FIRST BANK PLC, MR. BISI ONI, DURING A RECENT COURTESY VISIT TO BOTH MINISTERS IN ABUJA.

IBADAN, June 22, (THEWILL) - Minister of State for Finance, Mr. Remi Babalola, said on Tuesday that Nigeria and other oil dependent countries could no longer rely on narrow and static paradigms of growth due to the global financial crisis and the attendant fall in oil prices.
He made this disclosure at the second summit on Information and Communication Technologies (ICTs) in National Development held at the Trenchard Hall of the University of Ibadan, Oyo State.
The minister, in a speech titled "Transforming Poverty to Prosperity Using ICT", emphasized that the era when natural resources dominated trade had given way to a new era in which knowledge resources are paramount.
The Special Assistant (Technical) to the Hon. Minister, Dr. Felix Ogbera, read the speech at the ICTs in National Development Summit, which has as theme "ICTs and MDGs: Achieving a Quantum Leap for the Nigerian Economy".
Babalola said, "Our world is changing rapidly and those who are able to acquire, adapt, and utilize new ideas and innovations, regardless of who has invented them, will create tremendous wealth in the process.
"To achieve a quantum leap on the Millennium Development Goals (MDGs) as well as achieve National Vision 20:2020, Nigeria needs to move beyond stop-start development patterns of an oil-based economy to create a stable and prosperous base for a 21st century society built on a critical mass of knowledge workers.
He explained that the most promising sector was the service sector, specifically the absorption of ICT, in view of the short to medium term limitations in power and transport.
Growing the service sector, according to him, implies embracing the knowledge economy paradigm, developing education and skills, and putting in place a modern communications infrastructure.
He added, "Freeing up the country's dynamic businesses to create more ICT jobs will create more opportunities for our teeming youth, and accelerate the achievement of the MDGs and Vision 20.20.20. Indeed, there is no better leverage for self employment and entrepreneurship opportunities than through the use of ICT."
He assured that the achievement of most of the MDGs could be fast-tracked with increased usage of ICTs in the economy.
"There is no modern economy that can thrive without an integral information technology and telecommunications infrastructure. Indeed, no nation can effectively succeed in solving her 21st century development challenges, unless the national vision and strategies are anchored on ICT.  ICTs provide the veritable platform for rapid growth of our economy, if well harnessed.
"The power of ICTs can be effectively harnessed through the participation and cooperation of all stakeholders in our society – government, private sector and development partners.  ICT remains an enabler that could help Nigeria and other African countries get out of the doldrums of backwardness and move faster," he disclosed.
The minister cited Korea, India and the United States of America as countries that have harnessed the power of new technologies to nurture a cadre of knowledge workers that have pushed the productivity and innovation frontiers.
He, however, noted that some other countries which have failed to harness the power of new technologies have remained mired in poverty and deprivations. 
"Nigeria must place importance on the need to advance the course of information and technology to fast-track the growth of the economy and achieve our vision. Indeed, there is a paradigm shift in global development agenda and Nigeria cannot pretend not to be affected by its current and emerging impact.
"Any nation that wishes to attain and sustain meaningful development must therefore enthrone science and technology, and in particular, ICTs," Babalola stated.