Read Chief Anenih's Letter To The PDP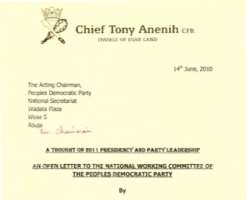 14th June, 2010
The Acting Chairman,
Peoples Democratic Party
National Secretariat
Wadata Plaza
Wuse 5
Abuja
 
A THOUGHT ON 2011 PRESIDENCY AND PARTY LEADERSHIP
AN OPEN LETTER TO THE NATIONAL WORKING COMMITTEE OF THE PEOPLES DEMOCRATIC PARTY
By
Chief (Dr.) Tony Anenih, CFR
(Iyasele of Esanland)
Since the raging controversy surrounding the issues of party leadership and the Presidency in 2011, I have restrained myself from making public statements. I believe that it is more constructive and rewarding to speak and present my thoughts to the National Working Committee (NWC) of our great party, the Peoples Democratic Party (PDP) on the issues. I do not care what the professional critics will say about this statement. The truth must be said.
May I recall the peculiar circumstances that stared at the faces of PDP leaders leading to the decision to zone the Presidency to the South-West in 1999. Such circumstances included:
The hue and cry from the South-West as a result of the annulment of June 12th Presidential Election of 1993
Sympathy for the South-West to pacify the Yorubas
Flood of aspirants from all zones
Enforcement of discipline
The situation in the Niger Delta Region with genuine demand for resource control.
The calibre of Aspirants
In 1999, as a result of the zoning, seven aspirants from the South paid and collected forms while one aspirant from the North collected form.
2. While the purported zoning to the South was still subsisting in 2002/2003, those from the North who had collected forms were told by the party to withdraw their nomination forms; they refused. Among them were Alhaji Abubakar Rimi of blessed memory and Chief Barnabas Gemade. There was a court action instituted by someone from the North to stop the 2002 convention so as to allow new entrants from the North to submit their nomination forms. I still remember vividly that 10 Governors who, less than 3 days to the convention - for Obasanjo's 2nd tenure - met Chief Audu Ogbe in his house that evening after having a meeting with the then Vice President, asking Chief Audu Ogbe to postpone the convention to allow new entrants to come into the presidential race. Ogbe disagreed with the Governors. That night, the zoning arrangement was rejected by the Vice President and the 10 Governors. That was the only time I ever saw former President Obasanjo being worried. In fact, he panicked. I had to get Chief Solomon Lar, Dr. Peter Odili and few others to come to Abuja to make sure that the party did not postpone the convention, due to pressure.
The following three tables show the classification of aspirants on the basis of those from the zone to which the Presidential ticket was purportedly zoned, who collected nomination forms, and those aspirants from the other zone that collected forms in violation of the zoning arrangement in, 1999, 2003 and 2007 respectively.
Table One.
PRESIDENTIAL ASPIRANTS FOR 1999 (ZONED TO THE SOUTH)
S/N
Name
State
S/N
Name of Aspirants who collected forms against the purported zoning
State
1
Chief Olusegun Obasanjo
Ogun
1
Alhaji Abubakar Rimi
Kano
2
Dr. Alex Ekweme
Anambra
3
Chief Don Etiebet
Akwa Ibom
4
Chief Jim Nwobodo
Anambra
5
Alabo Tonye Graham-Douglas
Rivers
6
Chief Francis Ellah
Rivers
7
Chief Philip Asiodu
Delta
Table Two.
PRESIDENTIAL ASPIRANTS FOR 2003 (ZONED TO THE SOUTH) AND CONTESTED AT THE CONVENTION
S/N
Name
State
S/N
Name of Aspirants who collected forms against the purported zoning
State
1
Chief Olusegun Obasanjo
Ogun
1
Alhaji Abubakar Rimi
Kano
2
Dr. Alex Ekweme
Anambra
2
Chief Banabas Gemade
Benue
3
Owelle Anayo Rochas Okorocha
Imo
Table Three.
PRESIDENTIAL ASPIRANTS FOR 2007 (ZONED TO THE NORTH)
S/N
Name
State
S/N
Name of Aspirants who collected forms against the purported zoning
State
1
Mrs. Dr. Sara Jibril
Kwara
1
Gov. Victor Attah
Akwa Ibom
2
Gen. Buba Marwa
Adamawa
2
Gov. Dr. Peter Otunuya Odili
Rivers
3
Prof Jerry Gana
Niger
3
Gov. Dr. Sam Egwu
Ebonyi
4
Gen Mamma Kontagora
Niger
4
Amb. Rev. Princess E. Egbon-Day
Delta
5
Sen. (Dr.) A.P. Sawa
Adamawa
5
Admr Okhai Michael Akhigbe
Edo
6
Gov Abdulahi Adamu
Nasarawa
6
Chief Okoh Ebitu Ukiwe
Abia
7
Dr. (Mrs) Mary A. Olutimayin
Kogi
7
Gov. Chief Achike Udenwa
Imo
8
Gen. Ibrahim B. Babagida
Niger
8
Chief (Dr.) Zeb Abule
Rivers
9
Late Gov. Umaru Musa Yar'Adua
Katsina
9
Mrs. Rev. Mary U. Onuka
Lagos
10
Gov. Ibrahim Saminu Turaki
Jigawa
10
Denis Uzoma Eheduru
Enugu
11
Gov. Alh. Ahmed M. Makarfi
Kaduna
11
Gov. Donald Duke
Cross Rivers
12
Princes Hadiza Golen
Kogi
12
Amb. Raph Uwechue
Delta
13
Alhaji Mohammed Gusau
Zamfara
13
Gov. Chimaroke Nnamani
Enugu
14
Gov. Ahmed Adamu Mu'azu
Bauchi
14
Owelle Anayo Rochas Okorocha
Imo
15
Dr. Godson M. Nnaka
Imo
16
Chief Albert Korubo Horsfall
Rivers
A careful analysis of the above tables shows that the purported zoning arrangement was observed more in breach than in practice, especially in 2003 and 2007. The fact that some aspirants stepped down for others is not a sign that the purported zoning was respected.
3. Today, the present situation in the PDP requires a re-examination. President Jonathan is on the same ticket with the late President Yar'Adua for 8 years (4 years of two terms). One half of that ticket dropped as a result of President Yar'Adua's death. That half has now been restored, with the appointment of the Vice President, to allow Jonathan complete the remaining part of the tenure. In view of the special circumstances facing the nation today, the most important issues that the President must pay attention to are:
a. Machinery for free and fair election
b. Good performance
c. Respect for the multi-ethnic groups and sections in Nigeria
d. Peace in the Niger Delta region
e. Implementation of the Amnesty programme and
f. Religious tolerance
g. Security of life and property in the country
4. The ball is absolutely in the court of President Jonathan and Vice President Sambo, a situation that presents a rare opportunity for both men to make history. If they are able to organise a free and fair election, ensure excellent performance in governance and do justice to all without discrimination, the sky will certainly be their limit. The major challenge may be that the time is short for proper planning for which the Acting Chairman of INEC had already given a warning signal when he said before the Senate that INEC was running out of time.
5. It is being speculated that if President Jonathan takes the PDP ticket, he would use his power of incumbency to rig, manipulate or ensure that he wins the election. I am, however, of a different opinion. I believe that any President who is unpatriotic can support a candidate and still use his power of incumbency to rig, manipulate or ensure that his candidate wins the election. It is not only when the President is a candidate that the election can be rigged. A determined and courageous President who wants to write his name in gold can contest an election and in sincerity accept defeat, if the result is not in his favour. It is therefore, not who the candidate is, but the issue of the political will and patriotic commitment of the President. That is why President Jonathan must make sure that future elections are free and fair, whether or not he is a candidate. God has always guided the President, and God will not abandon him and the nation at this crucial time.
6. All we need is a stable party headed by a Chairman of strong character and integrity, and who is respected by the teaming members of the party. There is no doubt that this is a very crucial year for the nation and if President Jonathan performs well and substantially meets the above targets, I and - I believe – majority of our party members and Nigerians in general will support his candidature.
7. Therefore my advice to President Jonathan is that if he decides to take advantage of this rare and uncommon opportunity to run in 2011, he should for now focus his attention on good governance in the areas of electoral reforms, power and energy, even development and peace in the Niger Delta region as well as social stability all over the Country.
8. On a final note, President Jonathan must bear in mind that the attainment of the above goals will require a lot of personal sacrifices and, sometimes, decisions that may be unpleasant to political allies, relations and friends. It is his ability to manage these interrelated and, often conflicting forces in pursuit of the goal set for him by Divine Providence, that will make him one of the greatest political leaders ever in the history of our nation. This is the situation that our uncommon circumstance has presented, and it must be understood by all.
Thank you.
 
Chief (Dr.) Tony Anenih, CFR
(Iyasele of Esanland).
****See attachments for copy of original letter.