Fashion Charity Event restores Beauty to Jos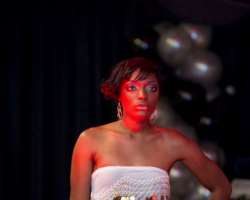 Fashion for Jos which held at "the Palace" 1015 Brightseat Rd, Landover, Maryland on May 22nd 2010 was an entire success as donors, sponsors and volunteers collaborated to organize the charity event catered towards helping the lives of people in Jos, Nigeria.
The idea was birthed by Estella Ogbonna, CEO of Estella Couture Fashions who was born in Jos and saw an opportunity to extend a helping hand to the motherland grew up in years ago. Fashion is a world of many colours and beautiful fabrics; qualifiers that could be attributed to Jos before the onset of crisis. The charity event was uplifting and encouraged participation from models, businesses, music artists, actors, DJ's and more. Overall, it conjured a sense of beauty and belonging that was always associated with the city. The pictures are proof-positive that Nigeria care about emergency crisis response.
Fashion for Jos is set to accomplish the following objectives; raise funds for victims especially women and children, create more awareness about the genocide as a means to invoke an action towards change and garner support from Nigerians in Diaspora and international Humanitarian groups on how such incidents can be avoided.
The event was hosted by Nollywood Actress and ex Miss Nigeria, Regina Askia and Raz Adoti, top Hollywood actor. Funds raised will be given to Nylah group, Justice Development and Peace/Caritas (JDPC) and the Nigerian Red Cross Society to support victims.Fashion For Jos is a charity event under Fashion For the Nations – a Not-for-Profit Organization set up in 2010 to assist cities, towns, and villages in nations around the world through organizing fashion fundraising events.
Photos from the event: