JUNE 12: USMAN BUGAJE'S HARSH WORDS FOR RIGGERS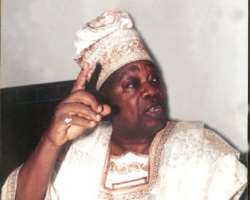 PHOTO: LATE CHIEF MOSHOOD ABIOLA WON THE ANNULLED JUNE 12, 1993 PRESIDENTIAL ELECTION.

I have heard and read a lot about the erudite scholar and activist, Dr. Usman Bugaje, former House of Representatives member from Katsina State and now AC National Secretary. I met him physically on Saturday, June 12, 2010 when he was guest speaker at the June 12 annual lecture series organized by Ekiti State chapter of the Action Congress at the Christ's School Alumni Hall, Ado-Ekiti. I never knew he was such a firebrand and an unrepentant progressive. Soft spoken but eloquent, Bugaje, a PhD holder in Pharmacy, belongs to the Marxist School of thought and this is discernible from his principled stand on June 12 and free and fair elections in Nigeria just as he was one of the House of Representatives members that scuttled the evil 3rd term agenda of General Olusegun Obasanjo. He was elected on the platform of the PDP but decamped to the Action Congress where he is now the party's scribe. He is an academic par excellence. 
He held his audience spellbound for about One hour that he spoke about June 12, the heavily rigged 2007 elections and the re-rigged 2009 gubernatorial re-run election in Ekiti State and corruption in high places. He saluted the doggedness of Chief M.K.O Abiola who made himself a sacrificial lamb so that democracy can be a reality in our country. He described the attempt of Ex-President Ibrahim Babangida to contest as President as a collective insult to the intelligence of Nigerians. He urged the people to resist Babangida with all at their disposal.
He expressed his sadness when he saw a campaign office for IBB in Ado-Ekiti. He said Babangida should be treated like a leper in any decent society because he laid the foundation of rigging on which the electoral heist of April 2007 was built. He told his audience that the same way those who annulled the June 12 polls would never rest is the same way those who stole the people's mandate during the 2007 elections especially in Ekiti State will never rest.
They will continue to run from pillar to post. He said he was in Ekiti during the gubernatorial re-run election and saw what happened. He saluted the courage of Ekiti people who stood their ground firmly in the rain during the re-run election and insisted that their votes must count adding that Nigeria now needs more than that resilience to ensure that our votes will count in future elections. He described those who rigged Ekiti re-run election as thieves who did not only steal the people's mandate, but also their money because they knew they would soon be driven away. He drew a similarity between the thieves in Ekiti and their counterparts in Edo State who carted away the chairs in the Government House when they were sent packing. 
He said the annulment of the June 12 election pained him to the marrow because Nigeria would have been greater today if June 12 had not been annulled. The election took Nigeria out of political, ethnic and religious bigotry such that Abiola defeated Tofa in Kano, which had never happened before. We would not have needed zoning in the country. Those who nullified June 12 elections had destroyed this country and there is no way we could quantify the damage. He warned that the culture of rigging that had been instituted by the annulment of June 12 elections should not be allowed to continue so that our country would not go the way of Somalia, Chad, Sudan, Liberia or Pakistan. 
Bugaje urged the people to strive to be different by not being selfish but to dedicate themselves to the entrenchment of democracy. He argued that the mindset that makes people to rig and steal is primitive, but they always end up badly when they meet their punishment. Abiola is celebrated today because he was able to sacrifice his comfort and all that he had for democracy.   It is selfishness that destroys a nation. Great countries are built on the spirit of sacrifice. People are great because they sacrificed and today their names are written in gold and their country is great.
Explaining the virtues of consistency and sacrifice in terms of Nigerian political parties, he told his audience that the AC is the only credible opposition presently that is respected as other opposition parties that were once strong had decimated their membership for a mess of porridge as soon as they accepted the come-and-eat call of the ruling PDP. AC that turned down the offer is today a party many other parties are angling to merge with because they believe is not only credible and principled, but also a party of the future peopled by men of integrity. 
Others who spoke in the same vein at the occasion were: Hon. Uche Onyekwocha, AC Director of Legal Services and a former House of Representatives member, AC deputy governorship candidate, Mrs. Funmilayo Olayinka, AC Chairman in Ekiti State, Senator Bode Ola of AC, representing Ekiti Central, the Deputy Speaker of Ekiti House of Assembly, Chief Olajide Awe, Yemi Adaramodu and Chief Biodun Akin Fasae. The event was well attended by invited guests who later proceeded to Fajuyi Park to address a crowd of June 12 adherents.  
Hakeem Jamiu can be reached on [email protected] and 234-0808 311 2749 SMS only.  
Disclaimer:

"The views/contents expressed in this article are the sole responsibility of the author(s) and do not necessarily reflect those of The Nigerian Voice. The Nigerian Voice will not be responsible or liable for any inaccurate or incorrect statements contained in this article."
Articles by thewillnigeria.com