SEVEN TALES OF WOMEN'S POWER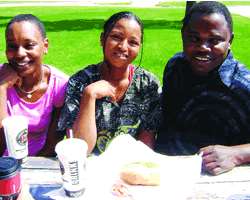 Prof.Ojewuyi (right) with some members of cast of Seven
This is a background to Seven, a play, written by Rachel Hastings butcompiled by Oluremi Ojewuyi and Natasha Bassey. It is based on the foreword written by the playwright and inspired and supervised by Alhaji Teju Kareem, CEO, Zmirage Multi-Media Ltd.
This background of the play is written as a fore taste of what the audience should expect, as this play is not just for viewing pleasure but for pleasurable learning. It is also aimed at boosting theatrical activities during the 76th birthday of Nobel Laureate, Prof Wole Soyinka on July 13, 2010.
Seven is about seven generations of women, beginning with the rupture of a third world. It speaks about issues anchored on feminists' views and womanhood, it is about women and the view of issues as seen through the eyes of women.
A generation is 30 years and so seven generations will span 210 years going back to the time of slave trade in America and the time of colonialism here in Africa. Because of this time span, there is a necessary redirection of focus to the past and events that shaped the past as they of necessity affect the present.
It is this redirection of thought and focus that brings to fore the mother and daughter bond as they are generation by generation the progenitors of life and therefore the axis upon which creation rests and in this instance, the theme of this study. It makes present the powers of mothers hurting, healing, loving and being remembered by their daughters who in the generational shift become mothers too and continue the process of above mentioned emotions initiated by their mothers.
The hurting is seen especially during the time of the slave trade when Africans were carried away into slavery. An example is mentioned in Roots, a book by Alex Hailey. Hailey is an African American who documented how his ancestor, Kunta Kinte came to be brought to America from Africa by the slave traders. In the book, Hailey recounts the pain Kunta's mother went through when she discovered her son had been taken to be sold into slavery.
This same pain is also recounted by Sojourner Truth as she spoke on her experience when her children were sold to another slave master and taken away from her and her case is not strange because during the slave trade, even after families had been working for one slave owner, they could be resold separately, thus breaking up the family. Rosa Parks is quoted as saying 'the more we gave in, the more we complied with that kind of treatment, the more oppressive it became'. She and other women such as Claudette Colvin, Aurelia Browder, Mary Louise Smith and Susie Macdonald refused to give up the seats in an oppressive system that required blacks stand up for whites to seat in public buses.
In Nigeria, such forms of hurting and oppression can be seen in the arbitrary taxation of the Egba women of Abeokuta as well as the fact that women were not allowed to vote and the Syrian and Lebanese trading monopolies that were adversely affecting trading for market women. These struggles were led by women such as Funmilayo Ransome Kuti and Elisabeth Adekogbe. Ngugi wa Thiongo also recounts, how he and some others came to develop the famed Kamiriithu Community Education and Cultural Center in conjunction with the Kamiriithu villagers, that it was a woman who came to meet him constantly to help publicize the oppression in their village caused by the colonial government and their fellow blacks.
He said ' early one morning in 1976, a woman from the Kamiriithu village came to my house and she went straight to the point: 'we hear you have a lot of education and that you write books. Why do not you come and give some of that education to the village?…' . The healing process also witnessed such events as the first female to drive, Funmilayo Kuti, the first female vice-chancellor, VC of University of Benin, Mrs. Grace Alele Williams and the abolition of the segregated bus system in America as well as the abolition of slavery in the late 1800s. It is the love and appreciation of the work of these women. Those who gained national prominence and those who did not that brings about this spirit of essence and remembrance by their daughters, granddaughters and other women in the diaspora.
It is performance poem with seven story spellers, a dramatized poem with seven actors. Dramatizing seven reasons to resist the evils and essence of racism and neo-colonialism that is evident in Africa and America, spanning a period of seven generations entwined in seven racy, sassy, intellectual rituals of forward movement, evolution and revolution. Seven, just like Mr. Styles in Sizwe Bansi is Dead is important because it provides an avenue for the story of women to be heard and provide women with a valid identity. Just like Mr. Styles who owned a photography shop and through his photography of Siswe Bansi, allowed Bansi tell about his trials as black South African.
Seven also renews and re-energizes the radical strains of Sonia Sanchez and Amiri Baraka. Sonia Sanchez, born Wilsonia Benita Driver was the first to create and teach a course based on Black Women and literature in a university in the United States and was a very influential part of the Civil Rights Movement. A serious writer, her poems depict struggles between black people and white people, between cultures as well as between man and woman.
Some of her works are Full Moon of Sonia, a CD, Shake Loose My Skin:New and Selected Poems, Wounded in the House of a Friend, a book, to mention but a few. Amiri Baraka, born Everett Leroy Jones, started his political transformation to that of an activist when he went to Cuba in 1960.Baraka, is a serious writer too and used his poetry as a weapon of action. He used objects familiar to the Black Americans to make them more receptive and understanding of his works.
His poetry committed violence against those he felt responsible for the injustice in society and through his works tried to spur and inspire other Black Americans to fight and revolt against a prejudiced society. His works include. Preface to a Twenty Volume Suicide Note, a poem,1961, Dutchman and the Slave, drama,1964 and film appearances such as One PM,1972, Fried Shoes Cooked Diamonds 1978, to mention but a few.
The drama is fused with epic poetry telling of the great exploits of women, narrating the honor of overcoming trials and such setbacks as being seen as second class citizens and the horror and pain of the tribulation past and commemorating the power of women's voices. It echoes the themes of feminists who since the 1800s have fought for female suffrage, the right for women to own property as well as the womanists and Africana womanists who fought specially for the rights of black women in particular, who in addition to being women had to deal with the fact that they were black and would be discriminated against more.
Seven is essentially an exploration into the life and times of women of substance, an excursion through their times rather than just a pleasurable story. It is an introspective conversation between mothers and daughters that spans seven generations, interlinking personal histories as shaped by the then social histories through race, the black race in Africa and the diaspora, rape, of culture and humanism, as well as the physical rape of a woman by a man, which was a common occurrence in the eras of colonialism as well as slave trade when the blacks were not seen as persons but as objects owned by and for the bidding and command of the slave masters or colonial masters.