DON'T STAMPEDE JONATHAN TO DECLARE HIS PRESIDENTIAL AMBITION – IDONGESIT NKANGA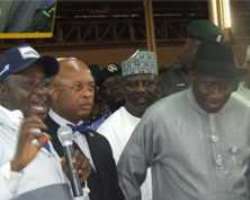 President Goodluck Jonathan
The former military governor of Akwa Ibom State, Air Commodore Idongesit Nkanga (retd) has advised Nigerians not to stampede President Goodluck Jonathan into making hasty decision concerning contesting the next year presidential election.
Nkanga who is the chairman of Ibibio Leaders Council of Akwa Ibom State and vice president of South-South Peoples Assembly, told Daily Sun on Tuesday that it would be premature to ask Jonathan to contest the next presidential election even when the president had not publicly declared his intention to run.
Otuekong Nkanga said since Jonathan had not declared his intentions to contest the next presidential election, Nigerians should rather support him to concentrate in putting things right in the nation before focusing on the next presidential election.
'The Zoning formula is from the party; but I do know as somebody from our zone which has been clamouring to produce the president, I believe that if he declares, we will support him. But that has to be his desire to go out and do service to this nation.
'If he does so, we will have to consult and canvass support for him because it is not automatic. Even with the late president, it would not have been automatic that after finishing the first four years, he would automatically proceed for another four years.'
The former governor said he would have loved Jonathan to make up his mind about contesting the election but that it was not paramount because the entire nation was looking on him to guide the nation onto the right path first before talking about elections.
He said so far Jonathan had performed well especially with regards to the electoral reforms and appointment of key people into the right places. 'If he continues like that then Nigerians would support his contesting the presidency.
'But the people should not see the election as an end in itself; Jonathan may decide for personal or national interest to forget about contesting; so if we decide to shout that we are supporting him now and he never runs and we start going to another person, then it is not right.
'When it is time for declaration and everyone else declares, he may then say he's going to run and based on what Nigerians see that he has done, they will decide to support him. If he puts Nigeria on the right path, Nigerians will be even be the ones to beg him to run.'
Nkanga said from the consultations he and his group had been having, Nigerians were quite happy with the president but that they would want him to make them happier.