ABOUT BANKY W'S HIGH SENSE OF ARROGANCE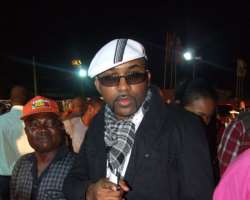 He stormed the music industry a few years back with his Ebute Metta song and the entire music lovers fell for his sonorous voice and, of course, his handsome look.
Shortly after his maiden effort, Etisalat, a telecommunication giant contracted him to be the Brand Ambassador of their product, a multi-multimillion Naira deal that totally changed his world.
Today, Banky W, though, still waxing stronger by the day, people around him are not too disposed with his attitude as they sometime say he's too proud and carries himself above his shoulder. 'Unlike D'banj and 2Face who would go out of their way to display their high senses of humility, Banky W is an opposite of this." One of his close aides reveals.
Recently at an event on the Island where Princess, the comedienne was a compere, Banky W was said to have put up an attitude some people simply tagged arrogance.