Accra Fashion Week Makes History With The First Ever Chilly Rainy Edition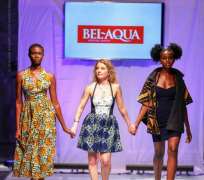 Accra Fashion Week CR18 makes history in Ghana once again at the Providence Events Center with an amazing fashion and celebrity filled event featuring some of Ghana's best designers and many foreign brands. The event was sponsored by Tree Of Life and the look was Wakanda inspiring, signalling that Africa is the future.
Guests on the night witnessed the Chilly/Rainy edition, one out of two set to take place in 2018 being the first fashion week in Ghanaian creating Africa's first original fashion seasons. The event hosted top Ghanaian brands like Bri Wireduah, Afre Anko, Akinko, Gavachy, Figs Fashion plus foreign brands such Romeo Paul from Qatar, Tobams Colors from UK, Katiti from Seychelles, Les Reines Des Pearls from Togo, Nackissa from Cote d'Ivoire and much more.
The event has proved to be one of Africa's major event and attracted sponsors such as MAC Cosmetics, Tree of Life, ETV GH, YFM, Grey Goose, Zylofon Media, Carbon Night Club, Urban Grill amongst others. Organisers state videos and images will blow peoples minds, however the best is yet to come in late September with their Summer/Harmattan edition which all information will be made available on www.AccraFashionWeek.org