JOS: Muslims Remain Indoors To Protest Killings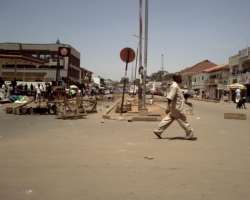 PHOTO: A MAJOR ROAD IN JOS IS DESERTED AFTER MONDAY'S CLASH BETWEEN LAW ENFORCEMENT AGENCIES AND COMMERCIAL MOTORCYCLE OWNERS. PHOTO: THEWILLIMAGES.
JOS, June 11, (THEWILL) - The Muslim community in Jos, Plateau state, today, stayed in doors refusing to come out of their homes or engage in any economic activity.
The stay - at - home our correspondent learnt was called by the Islamic leaders in Plateau to mourn the killings of some of Muslims during last Monday and Wednesday's clash between commercial motorcycle operators and law enforcement agents.
The Muslims say about 10 of their members were killed in the clashes.
Spokesman of the Muslim community, Alhaji Sani Mudi explained that the stay-at home observed by Muslims in Jos was to show their displeasure with the way the enforcement was implemented, resulting in loss of lives. "This we feel is unnecessary," he stated.
He said the observance of the stay-at-home would also grant the Muslims opportunity to pray for a lasting peace, so that positive change would occur in the minds of the political leaders in the state.
Shops in the major markets remained closed, streets were virtually deserted as only few motorists ventured out. Commercial motorcycle operators were absent from the streets. People who were not aware of the action later ran to pick their wards and children from the schools. Shops belonging to non Muslims which had earlier opened had to closed summarily for the day. Apprehension hung loosely in the air through out the day.