FOR TCODE AND TYPICAL, COLLABO IS THE LINK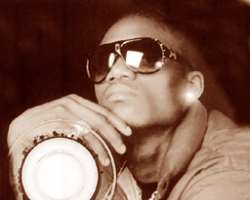 Typical
Like the saying, 'You fall for me I fall for you,' two friends, Typical and TCode feature in each other's songs. Music brought them together about four years ago and they decided to remain friends. 'Typical and I met through collabo and since then, we've been good friends: more like brothers,' TCode, the Fuji-turned-Hiphop artist said.
Known in the music industry as TCode, Taiwo Korodo's voice is that distinct indigenous voice which chants, Aiye ti mo wa ori mi ma je mo'se o… in Sheyman's rave track, Hotter than Fire, featuring Dr. Phat.
Typical, real names Azeez Adenekan, ventured into music about eight years ago. He started with a group, League of good guys, and after three years, he went solo. His first single, Yago, didn't enjoy good airplay because he didn't push it enough. Moreover, he didn't have a manager and was still in school. Then, his major concern was his studies. 'I had to focus on my studies at the Lagos State University,' Typical said.
The 2009 Computer Science graduate says music has always been in him. 'Music has been in me for a very long time. It's something I grew up with.' However, he understands the importance of education, hence, the decision to acquire formal education before going into music. 'Education is the foundation. I needed to get it first. My certificate is there and it is going to work for me in many places,' the soft-spoken young man says.
Now that he is done with schools for the meantime, Typical is ready to make his formal entry into the entertainment industry with a bang. 'I have a track am pushing right now featuring Tcode. The track, Jaiyelo, produced by K-Solo is enjoying good airplay in clubs, radio stations, Internet. My album, King of my time, will be out this year.'
The tall artist who is promoting the audio of Jaiyelo says that eight out of the 14 tracks in the album are ready and he may soon shoot the video of Wajo, another track in the album, this year. Some of the tracks in the album include the title track, King of my time, Lagos Sisi and Nigeria. According to the budding artist who has his eyes on awards - both local and international – his style is 'indigenous which carries both the young and old along.'
TCode has been around for long. The artist who holds a National Diploma in Banking and Finance from the Kwara State Polytechnics started about 12 years ago with a Fuji band in Abeokuta but had to switch to Hiphop. 'I discovered that I didn't belong there. I crossed to Fuji Hiphop,' the bubbly artist said.
For him, moving about with a band is cumbersome. 'The problem with moving about with a band is too much. So, I decided to cross after the Hotter than Fire collabo with Sheyman and Dr. Phat.'
And how has the reception been? 'It was an eye opener for me. People have been appreciating me. They are like, 'Where have you been.' Since then, Hiphop artists want to collaborate with me,' he answers.
Seven years after he crossed to Hiphop, he is ready to officially launch himself into the Nigerian music industry with his 13-track debut album titled Metaphor. The album contains tracks like Celebration featuring Typical and Jaywon; My Wife; the title track, Metaphor and others. Why Metaphor? 'I'm small in stature but am strong. I'm okurin merin (four men in one), stronger than okurin meta (three men in one),' he says, adding that he's shooting the videos for Metaphor and My Wife next week.
Now that he's set to drop his album, will he stop collaborating with other artists? 'Collabo is good. It exposes artists, especially good ones. I've done many collabos and I think I will have to choose who I'll work with now. I love to work with upcoming artists, but the song and artist must be tight.'