ARGENTINA NOT BETTER THAN NIGERIA – SHITTU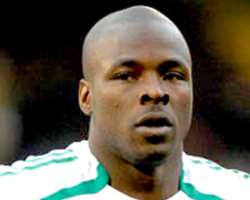 The Argentine squad boasts world-class strikers such as Barcelona's Lionel Messi, Atletico Madrid's Sergio Aguero, Inter Milan's Diego Milito, Manchester City's Carlos Tevez and Real Madrid's Gonzalo Higuain.
But Shittu dismissed fears that Nigeria would fall an easy prey to the title-hungry South Americans, saying the Argies were not better than the Nigerians.
The 29-year-old, who is expected to quit English Premier League club Bolton Wanderers after the World Cup, also brushed aside concerns that Messi would stroll through the Nigerian defence at will.
'I'm fresh, fit and ready for the challenge that awaits me,' the Daily Mail quoted the former Watford star as saying on Monday.
'I'm excited by it, seriously. I have nothing to fear, why should I? When you're a kid playing with your mates, you dream about playing in the World Cup.
'So now that I've arrived, I'm going to savour and enjoy it. I'm not just here to take part and swap shirts after the game.'
'As a defender, my job will be to stop (the opposition's) attacking players and that is all I'm focused on. Of course, they have some of the best players in the world, if not the best in the world in Messi.'
The former Queens Park Rangers player said the Eagles would be motivated to give their best at the tournament because of the support they have got from Nigerians.
He said, 'We are not here (South Africa) to be a footnote in the story of Argentina. We have 100million people supporting us in Nigeria - we are here to make an impact, anything else will rightly be seen as a failure.'