SAVING NIGERIA'S AVIATION INDUSTRY FROM TOTAL COLLAPSE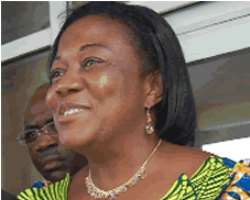 Mrs Fidelia Njeze, Aviation Minister
Few days ago, domestic airlines began tinkering with the idea of a possible fare hike to cushion the effect of the sudden increase in the price of aviation fuel (Jet A1).
Though the new air fare is yet to be fixed, it is speculated that it would be pegged at about N19,000 for a one hour flight.
There are strong indications that if that happens, the airlines may witness stiff resistance from the flying public and a good number of them may opt for road transport as an alternative.
This is buttressed by the fact that only few domestic routes are lucrative and have remained the safe hanger for the airlines; so hiking the fares across the domestic route network may hurt the airlines who will experience low patronage.
According to the Chief Executive Officer of Landover Aviation and Overland Airways, Capt Edward Boyo, 'air fare hike must be done as a result of market forces because it gets to a point when the consumer will begin to resist that. Once that is done, the airlines will be worse for it'.
Aviation analysts and experts have said that Jet A1 gulps about 63 per cent of the total operational cost of the domestic operators, because, according to them, Nigeria is one of the very few countries where the essential commodity sells at the costliest price.
As at today, the price oscillates between N115 and N130 per litre in Lagos depending on the marketer and of course, the airport of purchase. The aviation fuel can sell as high as N150 or N160 a litre, especially in airports across the northern region of the country. Aero, one of the nation's flag carriers had wanted to introduce a fuel surcharge of N500 and cash handling charge of N300 on every ticket purchased to cushion its operational challenges.
The package, expectedly attracted caustic criticisms from air travellers, with many of them lambasting the airlines for what they described as an unfriendly deal. With the outcry and the pressure from other stakeholders, the airline is said to have abandoned the deal. The N500 fuel surcharge was to take effect from May 19, 2010, while the cash handling charge of N300 would have commenced June 1, 2010.
Early 2009, the aviation marketers shocked the airlines when it hiked the price of Jet A1, the airlines wailed. Fortunately, for them, the House of Representatives Committee on Aviation headed by Hon Bethel Amadi intervened. All the parties were invited for a meeting and the price went back to normalcy. The aviation fuel marketers have complained of incredible debt owed them by both the government and the operators.
In order to save their own businesses, they have come up with cash and carry approach since the canopy of bank guarantee has been removed. According to the President of Aviation Round Table (ART), Capt Dele Ore, the problems domestic airlines have found themselves are largely their fault arising from poor business models and gross mismanagement.
While sympathizing with them on some grounds such as operating in an environment with decayed infrastructure, he also said the airline owners have refused to merge or manage their funds prudently.
Today, a glimpse at a typical Nigerian airline shows accumulation of unpaid salaries, collapsing of routes, deferred maintenance, incredible debt profile and ultimately closing shops. These are sure signs that all is not well with the airlines in the nation's aviation sector.
Nigeria had close to 30 airlines in the early '90s that operated scheduled domestic operations. Some of the domestic airlines include; Aero Contractors (Nigeria), Nigeria Airways, Afrijet Airlines, Allied Air , Arik Air , Associated Aviation, Aviation Development Company (ADC), Bellview Airlines, Capital Airlines (Nigeria) , Chanchangi Airlines, Dana Air, Dornier Aviation Nigeria, EAS Airlines Ltd (NICON), Hamza Air, Harco Air Services , Harka Airlines Nig. Ltd and IRS Airlines.
Others are Kabo Air, Med-View Airline, Virgin Nigeria, Okada Air, Oriental Airlines, Overland Airways, Pan African Airlines, Sosoliso, Space World and Wings Aviation. Today, can Nigeria only boast of about seven of such. They are Arik, Aero, Chanchangi, Dana, IRS, Associated, and Virgin Nigeria. The former Secretary-General and Chief Executive of African Airlines Association (AFRAA), Christian Folly-Kossi, said mismanagement and poor business plans ruined the once big airlines.
Today, they are still swimming in troubled waters. The biting effects of the global financial meltdown, the instability of the naira and the bank crisis have not helped matters. The banks that hitherto stood as guarantors for the airlines in various aspects of their businesses have withdrawn such privileges. It is now a cash and carry approach.
The banks, from the onset are known to have penchant for quick returns on investment and in a capital intensive sector like aviation, the banks have never been all out to support the industry. And with the current crisis unearthed by the Central Bank of Nigeria (CBN), the few that had the courage to provide support have left the airlines to their fate. And today, they are closing shops one after the other.
Simply put, Nigerian airlines, from latest developments, are living in burbles because behind the glamour in their operations lies huge debts and rot threatening to consume them most urgently.
While it is good to make a case for the airlines, the operators themselves are not united. Some of them have refused to officially join their umbrella union-the Airline Operators of Nigeria (AON), hinging their reason on the fact that the leadership of the body is composed of people who do not work in functional airlines presently.
As such, they see them as people not fully in touch with realities.
With the weak bond between, they fight for their cause from very selfish perspective, such that there is usually a conspiracy against certain operators for some indescribable reasons. They usually sing discordant tunes when presenting their problems and it makes their issues worse. Today, domestic airlines are faced with various challenges like high fuel cost, high cost of spares, astronomical cost of overseas maintenance, high cost of training etc.
Except aviation fuel, virtually other things that make up airline operations are procured overseas at a very high cost. Now that airlines owe Federal Airports Authority of Nigeria (FAAN), the Nigerian Airspace Management Agency (NAMA), the Nigerian Civil Aviation Authority (NCAA) etc on various charges they ought to remit to them. FAAN says the airlines owe about N5 billion, while that of NAMA is close to that. According to NAMA management, it would have been forced to close shops if it was also owed by the foreign airlines.
When the Aviation Minister, Mrs Fidelia Njeze, assumed office about two months ago, she was greeted by a war between the domestic operators and NAMA management with the latter insisting that the carriers must pay for terminal and en-route navigational charges. Her intervention saved the situation which shook the aviation sector to its foundation. The airlines are eyeing the N200 billion bailout package being prepared by the government. However, it is pertinent to state here that in giving bailouts and other forms of assistance, a thorough evaluation of the airlines' operations should be done.
More so, answers to these questions must be provided. First of all; which airline(s) is genuinely operating within the dictates of the law? Secondly, is any of them involved in round tripping and other financial scams? Thirdly, who will monitor the implementation of the bailout package to ensure that funds, where applicable, are not channelled to wrong places like the wasted N19.5 billion Aviation Intervention Fund? And lastly, what are the milestones that need to be tracked to ensure that the bailout programme achieves the anticipated results?
It is only after this underground work has been concluded that the scheduled airlines that will benefit from any bailout programme can be genuinely determined. So what is the way forward for the airlines? Experts say they must recapitalize and go for newer aircraft that are cheaper to maintain.
With the ever-increasing price of aviation fuel, Jet A1, it has become imperative to operate with younger fleet.
According to the former Arik Air Managing Director, Mr Michael McTighe, the B737-700 Next Generation (NG) has a lot of advanced features like the online, realtime weather instrument, auto takeoff mode etc. He went ahead to explain that the airplane would gulp half the quantity of fuel a B727 would require for the same flight service. Unfortunately, Chanchangi Airlines still has this fuel guzzler in its fleet having retired about five of them.
According to the former Managing Director of Afrijet Airlines, Capt Berry Noelle, airlines, as a matter of necessity, ought to operate a newer fleet for better and profitable operation.
Noelle maintained that Nigeria should resist the temptation of becoming a dumping ground of old airplanes, noting that operating them is very expensive.
He frowned at a situation where some airline owners, in the name of flaunting their wealth, go to the Californian desert in the United States, pick up old airplanes that are already close to D-check, pay next to nothing for them and fly them into the country. The D-check is an expensive and comprehensive type of check that requires that virtually everything in the aircraft including seats be changed.
The scenario is that once they bring such airplane into the country, it limps from say Lagos to Abuja for a couple of months and gets to the D-check. As soon as the stark reality of coughing out millions of dollars for the check hits the owner, he abandons the airplane and heads back for the Californian desert to pick up fresh scraps. Now various airports in the country have been littered with carcasses of abandoned airplanes. On how to rescue the airlines from the jaws of death, Olumide Ohunayo, the government needs to deeply assist the scheduled airline operators in Nigeria.


•Harold Demuren, NCAA DG
Ohunayo is of the opinion that government has a stake in the airlines even though they are private concerns. He said the government should come up with bailout programmes most urgently if the surviving airlines are to stay. The former President of the Cabin Crews Association of Nigeria (NACAN) believes that government, amongst other things should buy at least 30 per cent stake in the airlines despite the fact that they are privately run. Another option he adduced is tax relief on spares, fuel bailout and debt reduction; if the airlines are to survive.
Hear him: 'The truth is, what we have right now is that we have three of our airlines that are now technically grounded. One even had an IOSA and has an IATA too. So when you have an airline that has all that, you will see that as a cosy airline. But today that airline is grounded. And when you look at another set of three surviving airlines, they are also burdened with EFCC problem due to non-performing loans. And when an organization has a problem when it is called non-performing loan, it is another financial problem.
And when you are in that state, it is either you join the group of those who are technically grounded or remain disturbed about EFCC. And the more you're disturbed, the more your operations go down. And when you look at another angle, then you have others who are scaling down their routes. Some airlines have closed a lot of their international routes. And they all know that they make more money when they operate internationally than domestically, because you get your money in dollars. But now they have to scale it down because of competition and the crisis in the industry. Coming in there, then you now look at how many airlines you have left in the situation we're in. Maybe one, maybe two. So, what do we do?', he pondered.
Also speaking in the same vein, the President (Nigeria) of Sabre Travel Networks, Gabriel Olowo said the domestic operators are getting weaker due to a number of factors: 'Nigerian Airlines are relatively weak when compared with the mega operators in the market. They will grow weaker in the face of present low demand factor and stiff competition. Aviation world was at the stage of stiff competition during late 70s and early 80s which saw the exit of carriers such as Pan American.
Until lately, Nigeria refused to liberalise and the struggle for markets by Okada, Kabo, ADC and Bellview saw some of them bleeding to death.
Not until the world has evolved to the age of co operations, consolidation and even Mergers than Nigeria entered into the era of stiff competition and in the face of declining demand, the misfortune is simply predictable. To survive, Nigerian airlines must see the sense in interlining, code sharing, and merging. The approach in banking sector may be deployed through near coercion as it is un-African to cooperate. Share capital will not be the criteria but Minimum Airworthy Aircraft of about 50 pieces per airline is desirable. Deadline should be set for compliance.
This way Nigeria will end up with 3-4 mega airlines, with broad based ownership, and Competitive capacity. Virgin Nigeria/Virgin Atlantic experiment would have resulted in a Nigerian first Mega experiment but regrettably, the relationship has gone sour. Debt forgiveness and bail out for Nigerian Airlines (especially those who weathered the storm of struggle for market liberalization) remain a necessary condition for their losses during the struggle', he stated.
Another Aviation Consultant, Sam Akerele said that the government must, amongst other things set up an Aviation Trust Fund of up to N5 billion naira for airlines to borrow from to meet urgent needs like unanticipated engine repairs and other spare acquisitions. It should be noted that airlines are excellent job providers for various categories of professionals ranging from pilots, to engineers, dispatchers, accountants and administrators. As such, once any airline goes under, thousands of people become jobless automatically. This also cuts across various regions and countries the airline flys to.
To ensure that safety is not mortgaged, the NCAA Director-General, Dr Harold Demuren, hinted that the agency is currently conducting economic audit of airlines to ascertain their financial health status. The exercise is expected to detect the frail ones and weed them off, while leaving the strong ones on the scene. But the big question is: Is there really a very strong airline in Nigeria today?
'We have opened a searchlight on the domestic airlines. We are looking at some issues like defaulting in the payment of salaries, fuel, payment on insurance, a lot of bad debts.
The truth is that you can owe a fuel marketer, for instance, if you buy a N200 million worth of fuel everyday, you cannot pay that everyday, you already have a credit line with the marketer. If you are credit worthy, you can owe but if you don't service your credit, you don't pay your debts, it shows that you are not credit worthy.
So, that is very important. Those are the things we are going to check. However, insurance, is a no go area because you are not allowed to carry passengers in public transport category for hire and reward without having adequate immediately and we have learnt our lessons from what had happened in the recent past. Then, the other one of course is how much you are owing the various agencies; are you paying your landing and parking charges, rent, navigational charges to the Nigerian Airspace Management Agency (NAMA) for those doing international operations; charges to the NCAA, the Nigerian Aviation Handling Company (NAHCo) Plc, the Skypower Aviation Handling Company Limited (SAHCOL)? If you are owing in all these ones, it shows something is wrong, you can owe but you must be credit worthy.
We are watching these very carefully and the oversight team is already looking at this. Let me say what is the most important, we must ensure that safety is not jeopardize because if safety is jeopardized, the industry is gone. In this meltdown, we want to ensure that safety is not relegated, you must do your maintenance, train your crew and you must pay your bills. This is the economic audit we are talking about; we don't want a situation where you don't have enough funds to run a safe operation.
If you don't have this, you can't be here and this audit has started about a week ago and it is going to be an ongoing exercise. The main thrust of this exercise is to ensure that the airlines have enough funds to carryout a safe operation and if NCAA is convinced that an airline can no longer carryout a safe operation, that airline will close shop. The concept is about safety and safety cannot be compromised and jeopardized.
At the initial stage, we said that safety was number one and our goal has not changed. The goal is zero accident and that is what we want to achieve', he explained.
It is a crystal clear fact that a poor airline is tempted to cut corner and thus impair safety. More so, a poorly-motivated staff is likely to overlook a lot of things in aircraft operations due to his/her depressed state of mind. This also threatens safety.
The fact is that passenger traffic is a function of the economy and individual's purchasing power. When the economy is bad, as it is in Nigeria currently, travellers consider other options of transport. Today, road transport has stolen passengers that would have ordinarily flown', he explained.