TENSION GRIPS BAYELSA COMMUNITY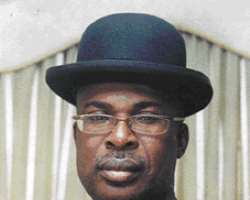 Gov. Sylva
Palpable tension has enveloped Egbebiri community in Biseni clan, Yenagoa Local Government Area of Bayelsa State over the invasion of the community by over 200 youths of neigbouring communities at the weekend.
The youths who were armed with dangerous weapons left in their trail one burnt house, with 15 people injured, while the health centre that served the whole clan was vandalised and patients forcefully discharged.
The doctor in charge of the health centre and nurses had to flee the premises of the centre when the youths swooped on the building.
The youths were said to have spent seven hours unleashing violence in the community and daring the people to come out and fight them.
According to investigation, the rampaging youths had stormed Egbebiri because of the Taylor Creek tourism project being cited in the community under the Public Private Partnership arrangements.
Consequently, the community had sent a Save Our Soul message to the Bayelsa State Government and the Presidency over the plans by their neigbouring communities to wipe their people away and destroy their community. When Daily Sun visited the community hours after the invaders had left, broken bottles littered all the roads in the community, with many people hiding inside their houses.
The leadership of the community miffed about the indifferent stand of a detachment of the police sent to arrest the situation had already lodged a complaint before the Speaker of the House of Assembly and the Commissioner of Police. The spokesman of the community, Chief Abrasike Weeklife Joshua, after a tour of the community, told Daily Sun that when the police came they could not arrest the boys but pleaded with them to stop and allowed them to go.
'When the violence started he said the community alerted the district officer and later the Akenfa and Ekeki Police Stations and in response, two detachments of policemen were sent but they were unable to make any difference. 'But when the two detachments of police came, they only stood to witness the carnage and burning of houses and left. They said the instruction was to observe and leave the scene,' he said.
'We are at a loss at our crime and we need help from security agencies to stop these attacks and allow the federal project go on for the benefits of all communities in Biseni kingdom.' The Commissioner Of Police, Mr. Onuoha Uka Udeka when contacted confirmed the incident but punctured the claims that the police arrived the scene and fail to arrest the situation.
'The police got the message late and when the few men got to the scene, they had to wait for reinforcement from Yenagoa which is about few hours from the community,' Udeka assured that the matter is under investigation and those found culpable would face the wrath of the law.