BUFFON, CAESAR, LEAD TOP GOAL TENDERS READY TO MAKE SPECTACULAR SAVES AT SOUTH AFRICA 2010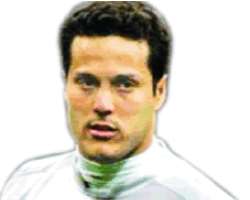 Cesar
1. Italy
1.Gianluigi 'Gigi' Buffon (born 28 January 1978 in Carrara), is an Italian FIFA World Cup, UEFA Cup, and Serie A winning goalkeeper who plays for Serie A club Juventus and the Italian national team. He is considered by many fans and experts to be one of most dominant and successful goalkeepers in recent history.[1][2]. Buffon was declared by Pelé to be one of the 125 greatest living footballers in the world, and has also been named the Serie A Goalkeeper of the Year a record nine times.
2. Holland
Maarten Stekelenburg (born 22 September 1982 in Haarlem) is a professional Dutch football goalkeeper who currently plays for Ajax and the Netherlands national football team.
3. England
David Benjamin James (born 1 August 1970) is an English footballer who plays as a goalkeeper for the England national team and is captain of English Football League Championship club Portsmouth.
As of 14 February 2009, he achieved the all-time Premier League record of 536 appearances, having overtaken Gary Speed with 535. He has also been capped 49 times by England, having made his first appearance in 1997.
He gained a Football League Cup winner's medal with Liverpool in 1995, and an FA Cup winner's medal with Portsmouth in 2008 as well as runners-up medals with Aston Villa in 2000, Liverpool in 1996 and Portsmouth in 2010. In 2010, he became the oldest goalkeeper to appear in the FA Cup Final at 39.
James holds the Premier League record for most clean sheets.
4. Brazil
Júlio César Soares de Espíndola (born 3 September 1979), commonly known as simply Júlio César, is a Brazilian footballer who currently plays as a goalkeeper for Internazionale of the Italian Serie A. He is also currently the first-choice goalkeeper for the Brazilian national team, having won 47 international caps.
In 2009, IFFHS named him as the third best goalkeeper in the world, behind only the Spanish Iker Casillas and the Italian Gianluigi Buffon. He was also awarded the Serie A Goalkeeper of the Year title in 2009, ahead of Buffon of Juventus and Federico Marchetti of Cagliari. He was nominated for the 2009 Ballon d'Or and was voted into 21st place; Casillas was the only other goalkeeper nominated.
5. MEXICO
Luis Ernesto Michel Vergara (born July 21, 1979, in El Grullo, Jalisco) is a Mexican professional footballer who currently plays for Guadalajara in Primera División as a goalkeeper and is the team captain.
6. ARGENTINA
Diego Pozo (born 16 February 1978 in Mendoza) is an Argentine football goalkeeper currently playing for Colón de Santa Fe.
Pozo began his playing career with Godoy Cruz in 1995, he also played for Huracán, Talleres and Instituto de Córdoba before joining Colón de Santa Fe in 2008.
On May 20, 2009 Pozo made his debut with Argentina in a 3-1 friendly match victory against Panama. The Argentine team was made up of players based in the Primera División Argentina. He is also with the 23 traveling to South Africa for the World Cup 2010.
7. GERMANY
Hans-Jörg Butt (born 28 May 1974 in Oldenburg) is a German footballer who currently plays for FC Bayern Munich in the German League, as a goalkeeper.
Known for taking penalty kicks (he has netted nearly 30 goals in Germany's top flight,[1]) Butt has played for Hamburger SV, Bayer Leverkusen and Bayern Munich in his country, having arrived at Munich already aged 34.
During his career, Butt has scored three times from the penalty spot against Juventus, once with each club.
8. SPAIN
Iker Casillas Fernández Spanish pronunciation: [?iker ka?si?as]; (born 20 May 1981 in Móstoles, Madrid) is a Spanish football goalkeeper who plays for the Spanish La Liga club Real Madrid and serves as captain for the Spanish national team. He is currently first-choice goalkeeper for both club and country and serves as a vice captain for his club. As captain of the national side, he led a young Spanish team to their first European Championship in 44 years, his first senior international honour.
Since bursting onto the scene as a teenager, Casillas has been recognised as one of the best goalkeepers in Europe, illustrated by the many awards he has received. He was ranked 4th in the 2008 European Footballer of the Year voting, and also the highest ranked goalkeeper in 2009.[2] At the end of 2009 he was voted into the UEFA Team of the Year for the third consecutive time.
9. FRANCE
Hugo Lloris (born 26 December 1986 in Nice) is a French football player who currently plays as a goalkeeper for Olympique Lyonnais in Ligue 1. He is also a French international and is currently the first-choice goalkeeper for both club and country.[1] Lloris previously played for hometown club OGC Nice making his debut as a teenager in October 2005. After excelling at the club for three years, in 2008, Lloris moved to seven-time Ligue 1 champions Olympique Lyonnais. He is a two-time winner and the reigning Ligue 1 Goalkeeper of the Year.
10. HONDURAS
Noel Eduardo Valladares Bonilla (born May 3, 1977) is a Honduran football goalkeeper, who currently plays for Club Deportivo Olimpia. He was born in Comayagua.
He was a member of the national squad at the 2000 Summer Olympics in Sydney. Prior to that experience he played as goalkeeper and forward for Honduras at the 1999 PanAmerican games in Winnipeg. He played as a striker for several seasons at Motagua.