LAGBAJA TO RELEASE FOUR VIDEOS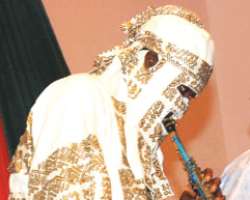 Lagbaja
Veiled musician, Lagbaja has been quiet for sometime now, with many even insinuating that he may have left everything behind to settle down in the US. But, as e-Punch discovered early this week, the masked man has been busy working on new materials: songs, videos, and other music-related stuff. And, with plans to unleash them soon, we shouldn't be too surprised to see him shouting out loud by mid-year.
A source close to the band tells us Lagbaja will release four new videos in the coming weeks; all at the same time. 'The videos are ready. We're just waiting for the right time to release them,'' said our source.
Apart from Bling Bling panda which we gather is one of the videos to expect, it's uncertain what the other tracks are.