COLOMBIA CLASH WILL BE TOUGHER, LAWAL WARNS EAGLES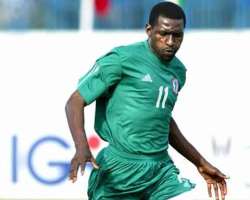 Garba Lawal
Atlanta'96 Olympic Games gold medallist Garba Lawal expects the Super Eagles to face a tougher challenge against Colombia in their controversial friendly encounter in London on Sunday and warned the players they must to go full throttle to leave the field with their heads high.
The Eagles have been copping flak from all sides as lacking in quality and direction to make an impact at the World Cup after they struggled to a goalless draw with Saudi Arabia in their friendly match in Austria on Tuesday.
Speaking with our correspondent on the telephone on Thursday, Lawal, who featured at the France'98 and Korea/Japan 2002 World Cup finals, feared Sunday's clash might further expose the areas of weakness in the Eagles.
'We have showed a lamentable lack of seriousness for the World Cup and that is the problem of the team,' the versatile former Holland-based player said.
'It's high time we started serious preparations ahead of major competitions. We should not wait till the last minute before we start.
'The outcome of the game against Saudi Arabia is good for the coach (Lars Lagerback). Saudi Arabia are a good side and there are no longer pushovers in the game. The result is not bad. Football is no mathematics.
'However, I'm sure Lagerback is now aware there's a lot of work to do before the World Cup.
'I believe the players have learned some lessons from the encounter and would strive to improve on their performances in subsequent warm-up matches or risk being dropped.
'The game against Colombia will help in assessing the team, because the South Americans are a force to reckon with in world football.'
He expressed disappointment over the calls for the exclusion of Portsmouth forward Nwankwo Kanu from the World cup squad, saying Lagerback should be allowed to make his decision on the Eagles captain.
'We should stop the campaign for the inclusion or exclusion of certain players in the World Cup squad,' the Egypt 2006 Nations Cup bronze medallist said.
'It is Lagerback's business to decide who fits into his squad for the tournament.
'We are paying him to do the job and his wishes should be respected.'