GORILLAZ REPLACE U2 AT GLASTONBURY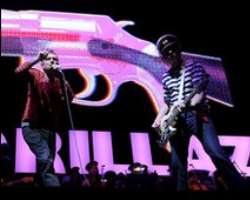 Gorillaz's third album Plastic Beach was released in March
Damon Albarn's virtual pop band Gorillaz are to replace U2 at the Glastonbury Festival next month.
The announcement comes a day after the Irish band were forced to pull out following Bono's back surgery.
Organiser Michael Eavis promised "a massive audio visual spectacle which will really ignite the Pyramid Stage".
In their only full UK festival appearance, Gorillaz will top the bill on 25 June. Albarn also headlined the event last year with Blur.
Mr Eavis added: "I'm very excited about Gorillaz' show coming here because they're so open to guests and collaborations. Gorillaz will come to life on that stage but we wish Bono all the best
Damon Albarn
"The alchemy of Friday's show is going to be astonishing – a perfect, contemporary way to kick off the 40th anniversary celebrations."
The new album features guest appearances from artists including Lou Reed, Snoop Dogg, Mos Def and Bobby Womack.
Albarn said it was "a terrible thing for U2, Glastonbury is magical", adding: "Gorillaz will come to life on that stage but we wish Bono all the best."
The cartoon group released their third album Plastic Beach in March and unveiled their new live show at the Coachella festival in California in April.
Gorillaz co-founder Jamie Hewlett said: "I wasn't sure how Gorillaz would work in a festival environment, but Coachella was amazing. I think Glastonbury will be an unbelievable experience for us."
U2 have postponed 16 US dates as well as their Glastonbury show
They will also visit other European festivals including Denmark's Roskilde on 1 July and Benicassim in Spain on 18 July.
U2 were forced to withdraw from Glastonbury and their US tour after after Bono had emergency surgery to save him from possible paralysis.
The singer, 50, had a back operation on Friday after suffering an injury while training in preparation for the tour.
Bono, who must recuperate for the next two months, said he was "heartbroken".
'Severe pain'
Neurosurgeon Professor Joerg Tonn said: "The surgery was the only course of treatment for full recovery and to avoid further paralysis."
Prof Tonn told the Reuters news agency Bono had been "in severe pain with partial paralysis of the lower leg".
"His prognosis is excellent but to obtain a sustainable result he must now enter a period of rehabilitation."
The band's manager Paul McGuinness said the group were "devastated" at postponing the concerts.
The festival has had to cope with headliners pulling out in the past.
In 1995, The Stone Roses cancelled when guitarist John Squire broke his collarbone in a cycling accident. Pulp were brought in as last-minute replacements.
In 2005, Kylie Minogue withdrew following her diagnosis with breast cancer. Basement Jaxx were promoted to take the main slot.