LIVING ON THE FAST LANE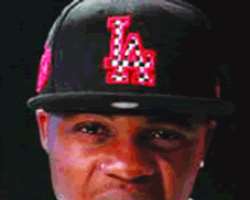 Da-grin
Bury me smiling with Gs in my pocket
Have a party at my funeral, let every rapper rock it
Let the hoes that I used to know from way before
Kiss me from my head to my toe
Give me a paper and pen
So I can write about my life of sin
A couple bottles of gin in case I don't get in
Tell all my people I'm a Ridah
Nobody cries when we die, we outlaws let me ride – Tu Pac Shakur
We all love rags to riches stories. Little wonder many want to be in the limelight and make it big. But many celebrities forget where they are coming from and they live on the fast lane, forgetting what they went through to achieve fame. Many are yet to get over the loss of Dagrin (real name – Oladapo Olaitan Olanipekun), the rising Nigerian rap star who died in a car crash a month ago.
He was alone in the car, meaning he drove himself home. Why should a celebrity drive himself after a performance, when he would have been exhausted?
The carefree lifestyle of some of our celebrities usually leaves a sour taste in the mouth. People that are supposed to be role models are usually found wanting, getting involved in vices such as using hard drugs, abusing alcohol and promiscuity. Many also do little or nothing to take care of their health.
When all these are taken for granted and things turn out for the worse, it is always a shock whenever the unexpected happens. For instance, renowned Fuji musician, Alhaji Sikiru Ayinde, has been battling with diabetes and hypertension for over a decade. Regardless, he has continued to dish out stellar performance within Nigeria and abroad. This is not the case with the younger generation of artistes, who hardly think about their health.
There are countless reasons why young celebrities should take a critical look at health issues, because the death of Dagrin is a wake up call to others. How often do they do routine medical check-up? What about the abuse of drugs? Do they check what they eat?
In other parts of the world, there are special diets suitable for their work, which would make them function better. Such diets enhance creativity and intellectual performance. How well do they sleep? This might seem flimsy but everyone needs at least eight hours of sleep to function properly, and artistes are not super humans.
The way artistes, especially musicians, abuse drugs has also become a source of worry. There is a particular hip-hop artiste (names withheld) that is said to eat igbo (Indian hemp) like food. While some claim that Indian hemp or marijuana enhances creativity, it is however a short cut to perdition. Despite the fact that its use is illegal in Nigeria, this is taken for granted because it is cheap to procure.
But statistics show that people who smoke cigarettes are likely to do hard drugs and in most cases they experiment with the cheap drugs before graduating to more expensive ones.
Remember Bruce Lee? The iconic martial artist died in Hong Kong at the age of 32 from swelling of the brain (acute cerebral edema) caused by an allergic reaction to the prescription painkiller, equagesic, which contains aspirin and the muscle relaxant, meprobamate. An actress friend gave the pill to him after he complained of a headache. A lesson from this is that even that painkiller might be a risk factor too.
What about American rapper, DMX? His music was the rave of the moment at a time, but he missed it when he went into drugs. DMX, whose real name is Earl Simmons, has been arrested again and again with drugs and he has been battling addiction for some time.
Young Britney Spears was described as a habitual user of alcohol and controlled substances. Whitney Houston, American sweet heart came crashing when she fell in love with American bad boy Bobby Brown. She got into drugs and she is yet to pick up the pieces of her life.
Back home, the late Fela Anikulapo-Kuti never hid the fact that he did marijuana. Now Majek Fashek is reported to be battling with cocaine addiction. There is another case of an actress who was on a popular sitcom in the 80s whose future had been mortgaged by drugs and is presently being rehabilitated by the Society for the Safety of the Insane and Destitute (SO-SAID), a non-governmental organization in Lagos.
Also, life on the fast lane seems to go hand-in-gloves with sex scandals, particularly in the entertainment industry. For instance, a celebrated musician in Nigeria is said to have impregnated four different girls, sparking off a debate that he needs to visit a sex rehab centre like Tiger Woods did because he might just be a serial sex addict. A role model who doesn't know what safe sex is should check himself. Like drug abuse, is the use of alcohol the beginning of the good life? To many celebrities, the free use of liquor shows the stuff 'you are made of'.
What celebrities must know is that being a star is not about the bling bling alone but also about living well. Musicians in particular have a poor reputation for living on the edge and many have paid the price. Talents like Tupac Shakur, Notorious B.I.G and Aliyah all died in tragic circumstances. Tupac had a promising career but proudly flaunted the thug life. He died of complications from gunshot wounds. Biggie known for his powerful rhymes was killed in an unresolved shooting in 1997. Aliyah at 22 died in a plane crash because the unqualified pilot was drunk and he was also found to be in possession of cocaine.