WHAT HAPPENED TO NIGERIA?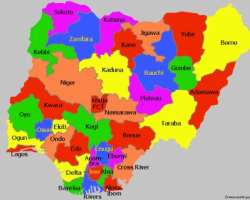 When was that the Americans predicted the end for this nation in about five years, using certain indices? Think of it: Elections come up next year and many Nigerians aren't sure their votes would count. That fear ended when the INEC's foul house was cleared recently. Six months had passed when no one effectively ruled here. One Acting president and a bedridden one sure had implications. Now there is one presidency. And there are former corrupt governors and other politicians in high places who feel secure, sure of the connections.
Trust in the system from within and outside Nigeria has suffered as a result. Now some of them answer questions from police in foreign lands while others resign their appointments. Siemens and Halliburton bribe scandals involving people with high-sounding names have dragged on for years. Now EFCC says its investigations into those issues never stopped for once. That, after a certain president returned from the US recently and gave matching orders to some officials to tackle corruption or be shipped out. Now things look different. These things tell of the new wind blowing in the nation.
One foreigner said he has stopped being shocked about occurrences in this country. Even Nigerians are beyond shock. There was nothing the foreigner in question didn't site as example. He, of course, thought of things that happen out there that make leaders resign to clear their names or something. Things that happen and leaders immediately account for. Things that happen and law enforcement are on the move. Things that don't escape the attention of proper investigation by lawmakers, the representatives of the people. He referred to strange issues that have come up in Nigeria, but which toppled governments in some other climes; the things that make citizens take to the streets. Many of the recent occurrences in Nigeria he had either mentioned or inferred. This foreigner may have a point. But he missed a point too. And this writer told him so.
Nigerians don't rush to the street to protest a thing that frequently, yes. The citizens have a tendency to sit and watch issues unfold, yes. But a count of the fingers shows that no leader here gets away with what many leaders get away with in some other countries both on this continent and beyond. Some military persons had ruled endlessly, and most violently too, in certain countries on the southern edges of Europe until relatively recent times, for instance. The same goes for Southern America. And there is the brother-to-brother rule in some Latin American countries. Some Asian countries have men who pass leadership from father to son. Yet, there are others where the military kill civilians and priests, and the citizens are helpless. It is important to note that protests, often violent ones are not in short supply in those countries.
There are African countries also where some leaders rule for three decades and more. This writer was shocked when a report said Nigeria's president would go to Cameroon and rejoice with Paul Biya on his nation's 50th independence anniversary. That is a man that has held his people captive for 28 years. Some anti-democracy leaders should not be seen with democratic once. And there are many more of such around the continent. Here, however, one military leader who carried on as if he was a genius in the art of ruling had said he had to step aside after he spent eight year in power because other boys in Khaki were ready to kill him.
Long before that, another military leader had been sent packing in 1975, after nine years in power. The grudge then was simple: he didn't appear as if he wanted to go. And there was the case of another goggle-wearing military dictator. He planned to shelve khaki and put on babanriga, flowing robe, like many of his type got away with in The Gambia, Niger, Liberia, Zaire and others. But the Nigerian military dictator in question died in office, and the presumed winner of the June 12 election whom he had locked up also followed shortly after. Solution was found to a problem. Nigeria has moved on, without the level of blood shedding witnessed in nations where people stand and protest without achieving any tangible change.
It is interesting what happened in this nation when the late President Umar Yar'adua left for medical treatment outside the country. There was a feeling that no one had effective control. The nation drifted somewhat, as the then Vice-President could not even approve federal allocations to the states to run their businesses. There was concern about a possible military take-over then. But it was clear that though Nigerians remained calm, concerned people put heads together.
Former President Shehu Shagari, along with his former Vice President, Alex Ekwueme, and other leaders paid visits to leaders of relevant institutions. Other Nigerians spoke up, pointing to dangers to democracy. The then Vice President was made Acting President by the institutions that are so empowered thereafter. There was something patriotic about that act. It showed something about Nigeria that makes incomparable to other nations. When things look down, leaders on every side of the Niger put heads together to save the nation. They may not shout it on the rooftop. But counsels in confidence has, time without number, brought this nation back from the brink of collapse.
When that foreigner spoke like the citizens here are cowards, this writer spoke up, telling him why what appeared to him like cowardice is actually a strength. The Nigerian strength. An advert calls it the power of Naija. Here no man rules like it is his father's farm. None would get away with a wrong, it may take long, but he would not. The forces are too much; too many for a single man to ride like a sheep. And as for the prediction by the Americans that the end of this nation may come in a couple of years, the signs, the indices listed appear to have been seriously hit by some of the steps being taken in the current administration. Once again, this nation is being turned back from the brink of collapse. This is what has happened to Nigeria. And it should continue. For this nation is unique – in its own ways.
Ajibade, a Consultant Writer, lives in Abuja. email: [email protected]
Disclaimer:

"The views/contents expressed in this article are the sole responsibility of the author(s) and do not necessarily reflect those of The Nigerian Voice. The Nigerian Voice will not be responsible or liable for any inaccurate or incorrect statements contained in this article."
Articles by thewillnigeria.com