It's Kelly Against The World!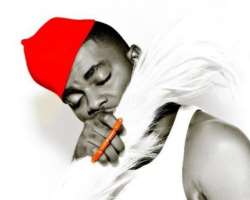 Its prep time in the Nigerian music classroom and everybody's expected to face their work/mind their business. Silence, pin-drop silence, must be observed at all times and any singer, rapper, singing rapper who flaunts this rule will be severely dealt with, for I am Kelly Hansome and I am your new (self) appointed Class Prefect.
Who Is Kelly Hansome?
Kelly Hansome is an Owerri-based singer, producer and some say 'business' man, who's been in the music industry for a few years, bidding his time and waiting patiently for his lane to open up. In 2007, it finally did when his beautifully crafted tale about a love-turned-sour Love Gbakwaoku became a staple on Eastern radio, quickly turning Kelly into a regional celebrity. Released under Myke Records, Kelly Hansome's first album Simply Kelly came and went without much fanfare. However, what that LP did for Kelly was to serve as his business card of sorts and in no time, Kelly and his Ugly Beatz production ensemble began producing for industry powerhouses such as Blackface Naija and 2 Shotz, even earning Kelly a spot on Plantashun Boyz ill-fated comeback album Plan B.
Why should I care about Kelly's music?
Let's be honest, the decision on whether or not to pay attention to Mr. Hansome and his uber-controversial music left our hands several months ago. In '08, the self-christened Chief Commander of the Dot-Com Forces took over nationwide radio with the insanely addictive smash hit Maga Don Pay. The NBC may have placed a ban on the song in mid-2009 but by that time it was too little too late, Kelly had already left the league of 'local champions' for good. The astute businessmen at Kennis Music took notice, Kelly was promptly signed. His sophomore album 2 Much Money was rebranded and re-released to the public and the rest, as they say, is history.
Who appointed him Class Prefect?
He did. As 2009 drew to an end, cracks began to appear in Kelly's relationship with Kenny Ogungbe and company. Rumours of a parting of ways were to follow with some suggesting that Kennis had released Kelly from his contract all together. Desperate times call for desperate measures, out of the blue came the stinging rebuttal Igwe (Kom Kom) and the firm promise from Kelly of more hell-raising songs to come on his junior LP Namez of Noisemakerz. It all went downhill from there.
Kelly's List of Noisemakers
At last count, Kelly Hansome had pencilled six names down for unruly behaviour, they include:
a) D'Banj**
b) Wande Cole and the rest of Mo Hits**
c) Terry G*
d) M.I.*
e) 2 Shotz*
f) Kennis Music
What's their offence?
a.) D'Banj
'They come dei hala say… Igwe… D'Banj a biala… Ebubedike… Igwe'
Igwe – D'Banj
I had to write D'Banj's name down first and asterisk it twice. I didn't even do it for myself alone; I did it to preserve the integrity of Ibo people in Nigeria and all around the world. Tufiakwa!
•In Kelly's Words –'… How can you be an Igwe if you're not a Nwafor? '
b.) Wande Coal
'Where the person way dei think say you fit stop my shine… Na who born the maga…?'
Who Born the Maga – Wande Coal (ft. K-Switch)
Wande Coal and K-Switch rained insults on an unnamed foe for three whole minutes. That anonymous enemy was me, Kelly Hansome. I am Mr. Maga, anyone who mentions that word anywhere around the country, mentions my name. I had to write his name down.
•In Kelly's Words – 'You say make I follow you Bumper to Bumper? Point of correction, na fender to bumper…'
c.) Terry G
Thankfully, this one isn't even subliminal. Terry insulted me point blank period! He said I was stealing his style, so I had to take his name down.
•In Kelly's words – 'Me no dei for test the microphone… Kelly Hansome me run the microphone… 'd.) MI
'Kelly Hansome is handsome, I'll tell him when I see him… but if I want a man, it would be Keke or D1' – Fast Money, Fast Cars – M.I (ft. WizKid)
Again, blatant name calling, MI clearly threw the first punch at me here and I had to defend myself and my integrity. I had to take his name down for noise making.
•In Kelly's words – 'You're so short… I'm the ladder to the top'
e.) 2-Shotz
'My maga don pay and it's not Kelly Hansome… *inaudible* Obu isi ike bia ka'anyin me… (If its 'strong head' you want to do, come let us do)
Oyoyo – 2-Shotz (ft. YQ)
Yet another open and shut case, my name was mentioned, the context was disdainful, Mr. William made noise and I had to jot his name down. No regrets.
•In Kelly's words – 'so who the eff is 2-Shotz when I killed Mo Hits with one shot?' f.) Kennis Music
As the dust around his exit from the record label settled, Kenny Ogungbe revealed to NET, 'Kelly signed for three albums deal and has released only one album. Kindly note that we spent over 12 Million on the brand Kelly Hansome … If he wants or whoever that wants the right to his next record must settle with Kennis or be ready to go to court. You have been warned.
•In Kelly's words – 'Baba Keke keeps on calling but I'm gone'In their defence
a.) D'Banj
'D'Banj never said he was an Igwe… the title D'Banj said the people gave him was – O si na nwata buru ogaranya', insists Mo Hits recording artiste Dr. Sid. At either rate, Kelly admitted that his 'diss' was motivated by commercial reasons as much as it was by tradition and being that D'banj has carried on as if the song doesn't exist, I wonder whether Kelly considers Igwe (Kom Kom) a successful record. That said the Kokomaster did go the extra mile to spread the word when he was conferred the title Oluoma 1 of Abayi Amaugwu community in Abia state earlier this year, sweet vindication perhaps?
b.) Wande Coal
Besides including the word 'maga' in his lyrics, there were no overt jabs at Kelly on Who Born the Maga at all. 'But honestly do you think Wande would be recording an album that (eventually) made him a star and the first person he decides to take a shot at is Kelly Hansome of all people?! It's ludicrous!'- Dr Sid. Wande Coal recently shot the video for this hit single in Lagos, so maybe we'll see once and for all what WC had in mind.
c.) Terry G
Style isn't a quantity one can lay claim to and defend in the court of law unless they are trademarked. Having said that, Terry G is widely agreed to have been the man responsible for making 'tile tile' and 'Free me now' popular in Nigerian parlance. Terry felt Kelly was borrowing his words without permission, going as far as titling a song on his sophomore album Free Me, so he called Kelly out.
d.) M.I
Words and intentions might converge on a record and they might not. MI made a statement that anybody can take as it is or choose to flip 360 degrees. Unfortunately, Kelly's mind is the farthest thing from simple, so he did the latter.
'My maga didn't pay but I'm friends with Kelly Hansome… And he's friends with Richard Branson'
M.I – Mo Gbono Feli Feli (Freestyle)
This line from MI's mixtape Illegal Music did little to appease Kelly so Mr. Maga recently had a dig at M.I, and he gladly obliged! First, he ridiculed Kelly on twitter, before hurriedly penning the following lyrics in time for the release of Jesse Jagz' album.
'Only one Kelly that I know… Kelly Rowland'
Nobody Test Me – Jesse Jagz (ft. Iceprince, M.I)
I'm curious to find out how this one pans out.
e.) 2-Shotz
I suspect this one is the conflict that goes much deeper than music. 2-Shotz was one of Kelly's earliest partners in the industry and the first collaboration the two of them had was titled Love Gbakwaoku, which translates to love can go to blazes. Ironic isn't it? Anyways, 2 Shotz hasn't made any direct comment about Kelly yet.
f.) Kennis Music
I'm not going to touch this one, not even with a ten-foot pole.
Who's next?
Your guess is as good as mine really, but something tells me that any artiste at all who's recorded a song with the word 'maga' in it within the last twelve months is automatically on Kelly's radar. Whether that would mean Banky W, Omawumi and the rest of the cast from the Microsoft sponsored Maga No Need Pay movement are going to have their names written down, only time will tell.
In Conclusion
The decisions Kelly Hansome is making today would ultimately determine the direction his career will go in the long term. Career longevity, brand marketability, alliances (and formation of possible alliances) should never be sacrificed at the altar of instant fame in my humble opinion.
And as for those taking this whole 'beef' thing so personal that they've rained all manner of invectives on our dear Class Prefect (and even his family members), please take it easy. It's all entertainment, baby. Everybody over here still sleeps very well at night, and so should you