Behold Nigerians who live in Luxury!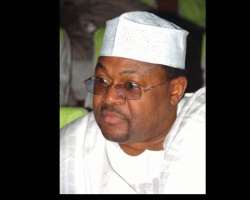 Behold Nigerians who live in Luxury!
All over the world living in luxury is strictly the preserve of the rich and famous. It takes millions of naira, thousands of pounds/dollars to finance the lifestyle of the people we are talking about. They drive state-of-the-art cars, own yachts, private jets, live in homes that inspire imagination, and holiday in the best resorts. Some of these individuals own or manage luxury brands. Correspondent, Kemi Yesufu, brings you this first part of Nigerians who live in luxury. They don't only know how to create wealth; they also know how to spend it.

advertisement

Fati Asebelua
She is the creative director of Muses of Modern Origin (MOMO), a high-class fashion outfit based in Abuja, the Federal Capital Territory (FCT).
Fati, as she is simply called, came into the fashion industry a little over seven years ago. This woman with unmistakable exquisite taste is known for making eye-catching but sophisticated evening wear for women, and describes her style as "sporty glam look", adding that she designs for women with style that is "timeless, luxurious, and discerning".
A visit to either of her stores would convince you that this woman, who is the chairperson of glossy fashion magazine, Sleek, deserves a place in this list.
Dehinde Fernandez
He is Africa's gift to the world of class, high fashion and luxurious lifestyle. To begin to describe the way of life of this businessman, who is the Baron of Dudley, the Oluwo of Lagos, and the Garsan Fulani of Kano, is akin to writing a fairytale. However, the glamorous lifestyle of this Kano-based billionaire is there for all to see. From his beautiful yachts and jets, magnificent homes designed and built to suit his taste, there are indeed very few people who can match Fernandez's Èlan.
Otunba Subomi Balogun
By 1982 Otunba Subomi Balogun founded the First City Merchant Bank (FCMB). In moving with the times, after years of operating as a merchant bank, FCMB in January 2001, went into universal banking. The bank after re-engineering adopted a new name, First City Monument Bank. Born in Ijebu-Ode, Ogun State, he read law in England. But the philanthropist is better known for his trailblazing exploits in the financial sector. The life of the patriarch of the Balogun family is that of splendour. The Primrose tower head office of FCMB and some of its branch offices are architectural masterpieces. Otunba Balogun's private residences in Lagos and Ijebu-Ode, and his cars are a testament to the iconic status the renowned banker has achieved.
Alex Duduyemi
Chief Alex Duduyemi is a man a lot of young upwardly mobile guys look up to. His Ile-Ife mansion is a timeless architectural masterpiece, the same with his other homes across the globe. From his choice of clothes, his carriage and the cars he steps in and out from, it is easy to see why many regard him as a grand old man.
Aliko Dangote
He has been recognised by Forbes magazine as Nigeria's true billionaire. Alhaji Aliko Dangote has successful businesses that have made him stupendously rich. Though very much on the quiet side alongside his simple appearance, his palatial homes scream one word - luxury!
Chief Sunny Iwedika Odogwu
Ask us to define a lifestyle of luxury with two words, and we would say Sunny Dike Odogwu, the Ide Ahaba (Pillar of Asaba) has had decades of success in business spanning publishing, telecommunications, shipping and of recent, the hospitality industry.
Grand Hotel, Asaba, which is owned by this man of means, is rated among the very best in the country. These exploits have seen the Ide Ahaba, emerge as one of Africa's celebrated businessmen.
Chief Bayo Kuku
The Ogbeni-Oja of Ijebuland, Chief Bayo Kuku is one of the country's wealthiest men. He is not the flamboyant type, but the doyen of the Nigerian stock market is a man of high taste. His homes in Ijebu-Ode and Lagos are palatial. And for those who have been opportune to glimpse into Chief Kuku's Ikoyi residence at Old Warring Road, which has since been renamed after him as Bayo Kuku Road, would marvel at his taste. Chief Kuku has been around for decades, yet his wealth and energy haven't waned a bit. He can compete favourably with today's emerging billionaires.
Jim Ovia
The history of banking in Nigeria is incomplete without the mention of the Managing Director of Zenith Bank Plc, Mr. Jim Ovia. Ovia runs one of Nigeria's global brands. That he is a successful individual is stating the obvious, and with success comes his highflying lifestyle. Aside his love for exquisitely designed boats, Ovia lives in an eye-popping mansion - a testimony to his class. He is a member of the Lagos Boat Club.
Mike Adenuga
Billionaire businessman Otunba Mike Adenuga Jr., can't help but live a life of luxury. His homes and offices around the world speak volumes of the man, who is a major player in the African continent. Be it in oil and gas, telecom, banking, Adenuga is a force to reckon with. The helipad on the roof of Globacom headquarters is one example of how he lives in luxury; why get held up in the Lagos traffic jam when you can fly to your office? The Guru, as he is fondly called, must have asked himself before investing in the helipad.
Eyimofe And Dorothy Atake
Dr. Eyimofe Atake (SAN) and his pretty wife, Dorothy, make a lovely pair. Born in 1958, the learned gentleman did most of his schooling in England, where he obtained LL.M from the London School of Economics, a PhD from Darwin College, University of Cambridge, in 1987. He has over 20 years experience in legal profession having been called to the bar in Nigerian in 1983. Atake and Dorothy, who is also a lawyer, for many younger folks is a model couple. Their lifestyle is classy without being ostentatious.
Leo Stan Ekeh
Unarguably one of Nigeria's most distinguished personalities, Ekeh, though having interest in insurance, banking and manufacturing, is best known as the Chairman of Task Systems and Zinox Computers. The Imo State-born businessman's home has no rival when it comes to state-of-the-art IT equipment. This has made it possible for the entire Ekeh mansion to be controlled electronically.
Moses Ayum
He started out in Abuja with an upscale interior dÈcor outfit, Cherrywood. Now, this Benue State-born businessman is better known for his luxury hotels in highbrow areas. They include Bay Dorchester Hotel in Victoria Island, Lagos; Edge Water Resorts, Cherrywoods and Kaduna Lodge in Lagos and Abuja. These hotels are for only those who can afford to pay for luxury.
Chief Razaq Akanni Okoya
Chief Razaq Okoya (CON) personifies the Nigerian dream; his story is that of from grass to grace. Chief Okoya is a business colossus; a man of means this Eleganza boss. Despite not being born rich, he is among Nigeria's most successful industrialists and has impeccable taste. His birthday parties and other family functions make the headlines in society magazines. Other ways to measure the level of luxury Okoya and his family lives is through his investment in properties in different parts of Lagos. Okoya's Oluwaninsola Estate at Lekki/Ajah Expressway, his Eleganza Gardens and Shopping Mall also in Ajah, all point to the fact that Okoya does nothing in half measures.
John Obayuwana
John Obayuwana is the brain behind Polo, Nigeria's number one designer wristwatch store. His clientele is made up of the highly sophisticated, those who appreciate what it means to own luxury brands.
Tony Elumelu
This United Bank for Africa (UBA) CEO needs little or no introduction. Many young men in business schools all over want to be like Tony Elumelu. His rise in the banking industry has shattered all records and stereotypes. Despite this, Elumelu has remained a simple guy; he probably wouldn't have made this list if his bank did not blaze the trail in luxury banking. Yes, the UBA Prestige bank is a luxury brand, strictly for those who have made it and can afford tailor-made banking services.
Andre Herrenschmidt
He is the General Manger of Transcorp Hilton Hotel, Abuja. Since its over 20 years of doing business in Nigeria, the Hilton Hotel has catered for world leaders, captains of industry, celebrities and wealthy entrepreneurs.
It is a well-known fact that only the highly placed in the society enjoys the luxury of being a regular guest at the Transcorp Hilton Hotel.
Tajudeen Dantata
He is the Group Managing Director of Dantata Group of Companies. Though not one to show off, Dantata, a +2 handicap, loves the game of polo. And don't be deceived; this game is as energy-sapping as it is money-guzzling.
Chief Chris Ogunbanjo
Born in Erunwon, Ijebu-Ode, a lawyer and highly revered corporate player, Chief Chris Ogunbanjo, for many, epitomises nobility. The Olotu of Ijebuland is stupendously rich. He has over the years represented a lifestyle of panache and finesse. Many younger corporate players are emulating his lifestyle.
Adekunle Ojora
This 77-year-old magnate's investments in various companies add up to billions of naira. From his signature outfits to his automobiles, and his homes in different parts of the world, Otunba Adekunle Ojora, a Lagos aristocrat, is one man who has lived a life of luxury.
Chief Richard Akinjide
Be it in politics, business or the legal profession, Chief Richard Akinjide is a successful man, who had often been described as an Ibadan elite. Those who call Akinjide patriarch elite do so because of his trailblazing exploits, having represented Ibadan South East at the age of 27, and became a minister in his 30s. Akinjide's home in Jericho, Ibadan, is intimidating.
Willie and Nkiru Anumudu
This couple lights up the Lagos social scene. Nkiru is unarguably one of Nigeria's most fashionable women. She has a wealthy husband in Willie, who owns Globe Motors, to make sure she is constantly decked in clothes from major labels of the world. To say that Willie and Nkiru live a life of luxury is stating the obvious.
Tayo Ayeni
Want to buy a car that will make heads turn? Talk to Tayo Ayeni, but be armed with your cheque book, of course. He is one of the leading auto dealers in Nigeria. He is Chairman/CEO of Skymit Motors. Majority of the wonder-on-wheels you see in the country were bought from this man. Now, you understand why he is one of the kings of luxury.
Chief Molade Okoya-Thomas
Many over time have come to define success with the life of Chief Molade Okoya-Thomas. This Chairman of CFAO is a doyen of African business. Okoya-Thomas is also chairman of other companies with French origin. He is a recipient of the Chevalier De La Legion D'Honneur, the highest national honour given by the French to a foreigner. Though not on the flambouyant side, the CFAO chairman certainly lives a life of luxury.
Oba Otudeko
President, Nigerian Stock Exchange (NSE), Oba Otudeko, is one of the wealthiest investors in Nigeria. An industrialist, he is chairman of Honeywell Group, which comprises eight companies with interest in flour milling, oil and gas, engineering, real estate and marine transport. Oba Otudeko, who is a role model to a large number of younger businessmen, can't help but live a life of luxury because he can afford it.
Tunde Folawiyo
He is the son of Alhaji Wahab Iyanda Folawiyo, the late Baba Adini of Nigeria. Though the younger Folawiyo lives his life far away from limelight, his lifestyle is very much similar to that of a prince.
Sunny Asemota
Chief Sunny Omoregie Asemota, chairman of Sunny Motors, belongs to the Lagos high society. A man of style and panache, he is not one to be associated with anything that has no class. Extremely wealthy, the Sunny Motors boss is one man those who hope to live a lifestyle of luxury must emulate. His homes, cars, wardrobes speak the language of luxury.
Otega Emerhor
Businessman and former banker, Otega Emerhor and his lovely wife, Rita, are one of the powerful couples in Lagos. They have all it takes to live a life of luxury.