Actress, Mimi Orjiekwe Flaunts Naked Baby Bump (photos)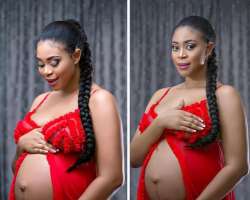 Back in the days, pregnant women ensures that they hide their pregnancy from the public to a point that even their friends cannot touch them until delivery but these days, technology has changed things.
Nowadays, people now go on social media showing off their pregnancy journey even wearing panst and flaunting their baby bump naked.
Hmm, Nollywood expectant mother, Mimi Orjiekwe, has gotten many talking as she released photos of her nine months journey and many wonder why this way continues to trend rather than kept secret from the public.
Well, its all about the twenty first century, things are evolving so you flow with the trend, do you agree?