Anti-Graft War: We Are Not Under Pressure From Presidency  - EFCC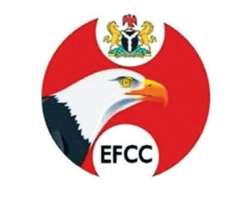 San Francisco, May 15, (THEWILL) - The Economic and Financial Crimes Commission (EFCC), has said that it is not in any way influenced by the presidency before deciding which case to investigate or take to court. It states that its activities are strictly guided by law and not by any pressure from any quarters.
The commission said in a statement on Sunday May 16 that the clarification has become necessary following persistent insinuations in some media reports that the anti-graft agency has come under pressure from the presidency to stop investigations or trial of some people believed to be close to government.
"We wish to state emphatically that these insinuations are mere fabrications that have no root in reality. The Commission and its leadership have enjoyed and continue to receive enormous support from the presidency. This is an indication of the present administration's commitment to the war against graft in our country and should therefore not be interpreted to mean that the EFCC is under the influence of the presidency in the pursuit of its statutory responsibilities," the statement explained.
It also stated that the Commission finds it curious when accused persons find it convenient to attribute their investigation or prosecution to their political foes or political persecution without addressing the substance of their case or the allegations for which they are being investigated or charged.
"In the same manner, we find it curious when some insinuate that the EFCC is under pressure from the presidency to drop charges against some accused persons or give some others soft landing. Contrary to these claims, the administration of President Goodluck Jonathan has been fair to the Commission and has at no time interfered in its statutory duties. We are strictly guided in our decisions by the facts of a matter and not by any pressure from anywhere.
"As a result, we urge members of the public to disregard these insinuations as the EFCC will continue to function under the dictates of the law and not from any other quarter," the statement added.