Mercy Aigbe Get Millions to Shave off her Hair (photos)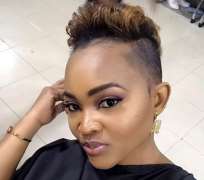 There seems to have been missing words that can be used to qualify Nollywood actress, Mercy Aigbe, who is a true definition of beauty.
Mercy seems to have collected huge amount of money just to have her cut off for a movie known as 'Peppper Them Gang.'
The actress though did not shave all her hair but the new cut she gave also showed another pretty side of her as she even looked by younger.
Taking such an action for a movie role, she will not disclose the amount but it will sure worth the decision.