Actress, Daniella Okeke Set to Travel to Texas to Appreciate her Lover on New Car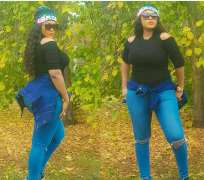 Curvy Nollywood actress, Daniella Okeke, has just hit mega jackpot this New Year as she has just taken delivery of a brand new Range Rover from her US based lover.
The actress, who just completed her new home some months back, already has a Range Rover but her man felt she needed to have another one and he decided to surprise her.
Daniella, who has been tongue lashed several on her source of wealth as she rarely graces lots of movies took the opportunity to show off the man that has been behind her wealth and luxury lifestyle.
She is currently planning on traveling to Texas, where her man resides to appreciate him on the gift and other expenses on her.