If you really want to model you must head for Europe not even South Africa — Vikki Uzo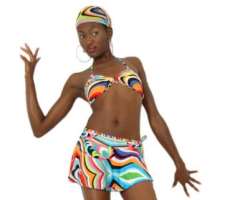 You don't need no telling that she is a model with her height, figure and graceful catwalk but VIKKI UZO, professional model is looking beyond the runway and has taken the microphone as well as going behind the camera. In this chat with AHAOMA KANU, she reveals some of her plans as a model, singer and film maker.
You are one personality that is becoming as controversial as exciting with your new hobby commenting on issues concerning
developments in the country, what inspired this?
I like poetry, songs and words. I also have a partner who is a words smith. We write my songs together. People got attracted to my beauty on Facebook and we thought wouldn't be ironic, they expect a silly model, so if we hit them with alternative ways of looking at national issues, what would happen; Beauty and Brains. Got ideas off other people's comments and was quite surprised at the response.
Originally you are a model and have later have added more stuff to your cart like film making, singer, etc, what really drew you to modeling in the first place?
Beauty! I've always been very striking with my height, my eyes and lips. I understood that Beauty has Power from a very young age and that is the subject of my song Beauty. My elder sister always told me I would be a model. But in the church choir I sang like an angel or so they say. And I used to draw comics as a kid and got really engrossed in films. So I grew up with all three dreams; Modeling, Singing and being a Film Maker. I began modeling with pageantries.
Let me take you back retrospect to when you grew up, was there a time when your slim stature was a kind of worry to you?
Never. I know what you mean. Men in our society supposedly prefer fatter women. But for many it's kind of sexual. The icon of beauty in the slim man or woman is universal like in the ancient Greek and Roman sculptures. Carrying height and slimness, especially with the successes of Agbani and Oluchi have always given pride to us that follow them.
Tell me about that model that really made you catch the modeling bug?
Who else? Agbani and Oluchi were our inspirations and still are.
How did you get into main stream modeling and at what point did you decide to go into it full time?
I did all the pageants up North in Abuja. Taraba, Most Beautiful Girl in Abuja, Miss Tourism etc. After that I started doing modeling jobs. As for main stream modeling, I'm not really sure what that means in Nigeria. There is really no modeling industry in Nigeria, so it can only really be a hobby here. Unless you can make it outside but the window for success is too short, so after giving it a shot, I finally opted for film making and singing, and keeping my modeling within the bounds of a professional "hobby".
Many models normally start out being paid peanuts, did it apply to you and what was the peanut paid you?
Frankly the only reason for doing modeling in Nigeria is the love of modeling. Anyone that tells you it is their career is without ambition. If you really want to model you must head for Europe not even South Africa? Joan Okorodudu took us to China, then later some went to South Africa. Two or three made it and travelled abroad, others had bad stories. Lexy Mojo eyes, has given a lot of push to models to go out there and he puts on great Fashion Shows. But there are people who are clearly perverts in the business whose sole aim is to trap young girls into high class call girls. And there is no legal protection. My church and my mentor protected me.
At what point did you start picking interest in music and movies?
I have always had interest in music and film making. Modeling is because everyone admired me. Singing is because everyone loves my voice. Film is not a natural gift of God like my body and my voice. Those ones are easy for me. Film is really what I have to work hard at. It is what I want to do.
How challenging is it combining these professions?
Vikki: Modeling and singing are easy. Film is intellectual and a great skill. I am training to be a Director not just an actress.
As a model which awards, laurels have you won if any and also which competitions or runways have you been part of?
I've been on most of the major pageants but never went for MBGN. I became Miss Tourism Plateau at one time and Miss Youth with Destiny for Plateau Young Christians. I've featured in Joan Okorodudu's Fashion Shows and travelled with her to China. I appeared in Lexy Mojo Eyes Shows. The rest was just a welter of being invited for shows, calendar jobs, etc. I took off for Film School and disrupted my modeling. I came back into modeling recently with the Nigerian Fashion and Model Shows. I really enjoyed being a Pin up Model on the new craze The Charlie Boy Magazine. Between that I had to complete my music album.
Also let me know about your music and movie exploits?
I have completed an album with 8 singles. My music I think will be strange for Nigerians. I combined Gospel themes, (like sampling the sounds, not really playing the whole music), mixing it with Igbo and Club rhythms and fusing it with European trance and dance music. It's not the kind of thing you dance to in Clubs but you'll love to play it in the car again and again. It's catchy and compelling.
You grew up in Jos and the town has became a city that emanates violence now, I am aware you did a song; tell me about it and what your plans are for the song?
Well the song is actually sampled from an Old Igbo War song, Dibe Dibe Ndidi Ka Nma. I mixed it with modern sounds and images and we produced a heart wrenching classic. It's the Theme Song of the Jos Crisis Appeal Fund and I will also be the face of the Fundraising effort. I intend to use my massive following on Facebook to drive the popularity of the project amongst the local and international FB community.
Tell me where you want to be in the next three year?
I want to be a well known artiste. A singer with at least 3 albums on the market and two major films. I hope to be part of making a film about the Jos Crisis and other major issues.