Miss New Nigeria World Pageant 2017 Launched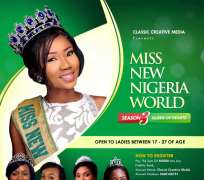 The Miss New Nigeria World (MNNW) pageant which has gradually become an household name both home and abroad is now officially on the lookout for the NEXT Nigerians most prominent Ambassador.
Classic Creative Media the organizers has revealed that this annual event will be particularly exciting and spectacular this year with lots of prizes lined up, as the winner will not only represent Nigeria in an International pageant but will also become a brand Ambassador and spokesperson for PROJECT SAVE A CHILD'S FUTURE TODAY.
Other rewards include an Official car, role in a Nollywood movie, Peace Ambassador, A year subscription to favorite fashion magazine, and lots of other prizes for runners-up. The 1st runner up will also be giving the opportunity to present Nigeria In an international pageant.
According to the Head of the casting Team Mr Youngdi Azomor, we are fully Ready to tour round the Cities across the Country in Search of Intelligent, Beautiful and Talented Contestants. At the end of the Casting, 60 Contestants will be selected for the voting stage which after the vote, 35 will be selected to Compete at the Grand Finale.
Forms are now available and can be filled online (www.themissnewnigeriaworld.com)
TO REGISTER:
Pay The Entry Fee Of N 5,000 Into The Event Account
Bank: FIDELITY BANK
Account Name: Classic Creative Media
Account Number: 5600168751
Then Log Onto www.themissnewnigeriaworld.comTo Fill The Online Form! It's That Simple. (Please Keep Your Payment Teller As Audition Token or send Teller Number with your name and audition center to 08060778714)
AUDITION CENTERS & VENUE:
KANO:
Date: 4th February 2017
Venue: Mozida Lounge, 54 Apple Avenue, Nomansland Kano.
Time: 11:00AM
Contact: 07082320211
KADUNA:
Date: 11th February 2017
Contact: 07082320211
OSUN:
Date: 11th February 2017
Venue: Ripple Hotel, By Lameco Road About, Oroki Estate, Osogbo
Time: 11:00AM
Contact: 08160147975
BENIN:
Date: 18th February 2017
Venue: Motel Benin plaza, 1A Reservation Road, GRA Opposite Sir Gabriel Igbinedions House, Benin City.
Time: 11:00AM
Contact: 08050907815
DELTA:
Date: 25th February 2017
Venue: Lawfab Hotel & Suites Hall by the Poolside, Osubi, Delta State
Time: 11:00AM
Contact: 08063968048, 08168316824
AWKA:
Date: 4th March 2017
Venue: King David Hotel & Suites, 46m Reginal Caeli Road, Enugu/Onitsha Expressway, Awka
Time: 11:00AM
Contact; 08079784002, 08060778714
ENUGU:
Date: 11th March 2017
Venue: Studio 042, No 1 Bisala Road by New Haven Junction, Enugu
Time: 11:00AM
Contact: 07017440001
EBONYI:
Date: 18th March 2017
Venue: Bar Del Pax Isheke, Front Of Emmanuel Hostel.
Time: 11:00AM
Contact: 08138073332, 08136365496
PORT HARCOURT:
Date: 18th March 2017
Venue: The Dawn, No 9 Ada George Off Iwofe Road, Beside Instant School
Time: 11:00AM
Contact: 08060778714,
LAGOS:
Date: 25th March 2017
Venue: SHEBA Center, Plot 20 Mobolaji Bank Anthony, Beside Briscoe Motors, Ikeja, Lagos.
Time: 10:00AM
Contact: 08060778714, 08138593810, 07033526651,
For Info/Enquiry on Participation, Support/Sponsorship,
Please Contact: 08060778714, 08079784002, 08056163950 and
Facebook: Missnewnigeriaworld
Instagram: @Missnewnigeriaworld
Twitter: @missnewnigeria
#‎MNNW2017 #QUEENOFHEARTS #MNNWSEASON3