PENSION SCHEMES BACK INTO DEFICIT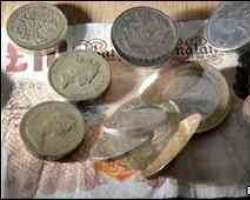 Pension funds tend to fluctuate month on month
The UK's private sector final-salary pension schemes fell back into deficit by the end of April after being in surplus a month earlier.
The Pension Protection Fund (PPF) said the 7,400 pension schemes had a total deficit of £2.2bn.
This came after the schemes had moved into a surplus of £0.3bn in March – the first month in positive territory since June 2008.
However, a year ago the deficit had stood at £188bn.
The number of schemes in deficit rose slightly in April, with 69% of schemes in deficit.
Share prices
The PPF said rising share prices meant the funds' assets had been rising in the last year ahead of the cost of paying for pensions.
However, in April, these share prices dipped, leading to the worsening in the funds' position.
Last October, the PPF changed the way it calculated the likely cost of paying for pensions in the future – leading to a reduction in the calculation of funds' liabilities.
The figures come as Aviva announced that its life and pension sales reached £2.56bn in first three months of 2010, an increase of 14% on the previous quarter and in line with the same period a year ago.