Sorry! and AMAA on CNN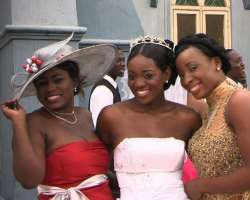 Hello people!
A thousand apologies. I have not lived up to the promise I made in starting this blog. I am so sorry, life just got busy. Also, movies this year so far have been awful. I have a whole bunch of movies to watch and review, but I have no time, and yes, no motivation. The few I have seen are not reviewable. Its been so far, so bad!! **Sigh**
But there are quite a few movies coming up that I am excited about, so I guess my return will be all about the hype feature for now and perhaps reviews of some of the older movies. For some reason, Nollywood is back in the doldrums. Hopefully things improve!
Anyways, I was doing my news rounds this morning, and saw this feature on CNN. It's a feature on the recently held African Movie Academy Awards (AMAA). The gist is that AMAA had a lot of issues this year (as always) from organization, to sponsorship, to the fact that most stars did not show up
. Also weird was the fact that three people won best actress for the movie Perfect Picture. Yeah, strange huh?
But it does seem that the rest of the world has begun to recognize the AMAAs as Africa's oscars. That means that they need to get their acts together ASAP. Hopefully they will. Kunle Afolayan's Figurine, already hyped here, stole the show at the awards. Enjoy the feature, and I will be back!!