I' m very flexible with my bum, I use it very well – Didi Ekanem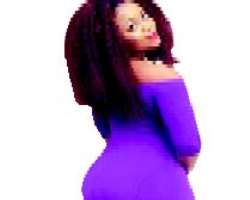 Google this girl's name and see if you have not bitten more than you can chew.
All that would come greeting you is butt, butt and butt in different shades of lusciousness. She is a native of Akwa Ibom and a graduate of Linguistics and Communications.
When Potpourri once asked her if its true that girls with big bums are lazy in bed, hear her answer; "I will speak for myself, because I feel girls with big bums are usually very lazy in bed, but for me I'm very active, so, I'll just speak for myself. I'm very flexible with my bum." 'you are very flexible with your bum?', we asked again, and she replied "Of course, I use it very well."