SIX KILLED AS PHILIPPINE ELECTION HELD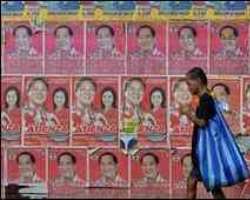 Voting in national and local elections in the Philippines has been extended by one hour due to long queues of voters.
Filipinos will elect a new president and vice-president, as well as more than 17,000 other positions.
The queues have been linked to problems with new automated vote-counting machines, which failed to operate properly in pre-poll testing.
Six people were killed as voters cast their ballots, amid reports of continuing violence in the south.
Benigno Aquino, the son of the popular former president, Cory Aquino, has been leading the polls but former president Joseph Estrada is also in the running.
Outgoing President Gloria Arroyo, whose term expires in June, is running for a seat in parliament.
Determined to vote
The BBC's Philippines correspondent Kate McGeown is at the Nemesio Yabut elementary school in the capital, Manila, and says long lines have formed with hundreds of people waiting for a chance to vote. AT THE SCENE
Kate McGeown, BBC News, Manila
Nemesio Yabut elementary school is more used to queues of children than queues of adults, but today they're here in their hundreds waiting for a chance to vote. It's one of Manila's biggest polling stations – about 20,000 people are expected to pass through here today.
It's hot and sticky here, and some people have already been waiting for hours. But everyone still seems to be in high spirits, and some people have even started selling food and drink here to the waiting crowds. People I've spoken to say they are excited about today, but also worried about the possibility of violence.
People take elections seriously in the Philippines – an estimated 85% of those eligible are expected to vote.
Glitches have already occurred with the country's new automated voting system.
Even the election front-runner, Mr Aquino, had trouble voting at his home province of Tarlac because the ballot-counting machine had broken down.
"Hopefully, this is just an isolated incident. We are waiting for more reports… (but) if people can't vote because the machines don't accept their ballots, then certainly that is a problem," Mr Aquino said.
Throughout the campaign the issue of the automated voting machines has dominated headlines, and our correspondent says there are fears of what might happen if something goes wrong with them.
There were sporadic reports of violence as polling took place.
Two civilians were killed as private armies of rival vice mayoral candidates clashed in North Kabuntalan town in southern Maguindanao province, Lt Col Raymundo Ferrer told reporters.
Philippine poll: Key candidates
Three people were shot dead and 10 others wounded when police clashed with supporters of a mayoral candidate in the southern province of Zamboanga Sibugay before dawn.
A cousin of the vice governor in North Cotabato province was shot dead while riding on a motorbike, local police said.
The latest deaths bring the toll over the four months leading up to the elections to 35 killed.
Those deaths are in addition to the 57 people killed in Maguindanao province in November when a group tried to register a candidate for the elections in an area held by a rival clan.
Twelve members of the clan, the Amapatuans, have been charged with involvement in the mass killing, but 10 of them are running for posts in these polls.