Tories and Lib Dems in crunch talks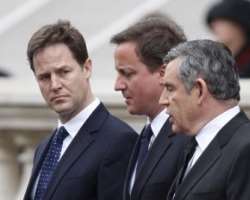 Tories and Lib Dems in crunch talks
Negotiators for the Conservatives and Liberal Democrats are to meet again in crunch talks to spell out their demands for a deal which could see the parties form a coalition government.
David Cameron and Nick Clegg spent 70 minutes last night in face-to-face talks on the neutral ground of Admiralty House in Whitehall, with both sides describing the encounter as "constructive and amicable".
And Mr Clegg spoke to Gordon Brown by phone, at the request of the Prime Minister, in a conversation which the Lib Dems again described as "amicable".
A spokesman for the Lib Dem leader indicated that Mr Brown's overture would not deflect Mr Clegg from pursuing his strategy of talking to the Tories first on a possible solution to the impasse caused by Thursday's General Election.
"The Liberal Democrats will continue with the approach which Nick Clegg has set out and which was endorsed today by the parliamentary party and the party's federal executive," said the spokesman.
Tory sources are cautioning that no conclusion can be expected to the talks until Monday at the earliest, but today's meeting at the Cabinet Office will bring a sharper focus on the issues that may make or break a Tory/Lib Dem deal. Mr Cameron made clear he is willing to seek consensus with Lib Dems over issues like education, the green economy and taxation. But doubt remains over whether any agreement can be found on the thorny questions of Europe and electoral reform.
Polls suggest widespread public support for a fairer voting system following an election in which Lib Dems won fewer than one-tenth of seats after securing almost a quarter of votes and Conservatives were denied a majority despite taking a greater proportion of votes than Labour in 2005. Some 62% of people questioned for the Sunday Times, 60% in the Mail on Sunday, 59% for The People and 48% in the Sunday Telegraph backed proportional representation for Westminster elections.
Speaking outside his London home, Mr Clegg said: "Everyone's trying to be constructive for the good of the country," he said. "I'm very keen that the Liberal Democrats should play a constructive role at a time of great economic uncertainty to provide a good government that this country deserves.
"Throughout that we will continue to be guided by the big changes we want - tax reform, improving education for all children, sorting out the banks and building a new economy from the rubble of the old, and extensive fundamental political reform."
In a message to Conservative supporters, Mr Cameron reiterated that he would "stand firm" on issues relating to immigration, defence, and the handover of further powers to the EU.
|
Article source