Nneke Somto Face of Candy City Nigeria 2016 featured on La Mode Magazine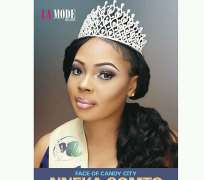 She is not just in the forefront of beauty queens in Africa, she is also gaining a lot of presence on the scene, with a fresh deal with Award winning Nollywood Producer and Director, Vincent Anointed. Now, she is being described as one of the most outstanding Beauty Queen in Africa by Peace achievers.
In the editorial, the Beauty Queen talked about her RACE and WINNING the prestigious Face of CandyCity Nigeria 2016 crown.
"This process didn't come without its difficulties and challenges from a few non-supportive people plus the sleepless nights and a few times loss of appetite for food as a result of anxiety.
At the early stages of the contest, my parents strongly discouraged me from participating most in particularly my dad for various moral reasons, but fortunately I was able to convince them beyond doubt of how much it meant to me and career potentials. So they changed their perspective and gave me all the support I needed.
So many contestants and beautiful ladies, at first I was scared of the competition but what kept me going were my focus and belief. I knew what I wanted and I am naturally a go-getter so I went for it. I put in my best and left the rest to my creator." She said
Do you think Nneke Somto deserved to be in the magazine? Let us know below.