Union Bank Wins ITF Award for Human Capital Development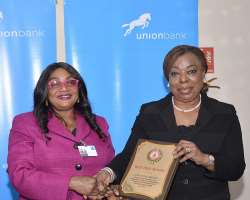 The Industrial Training Fund of Nigeria (ITF) announced Union Bank of Nigeria Plc. as the "Overall Best Contributing Employer in Human Resources" for the year 2015. The innovative financial institution was presented with the award by the Deputy Director, ITF on Monday, August 8, 2016.
Selected over 8,000 contributing employers in the Lagos Island Area, Union Bank spends an average of 200 million yearly to train its employees in addition to consistent intake of interns and students on industrial training. The financial institution also carries out regular safety training for its people with accordance to the ITF training standards.
"Union Bank started its transformation drive 3 years ago and an integral part of that transformation is looking after our people. Training is definitely a critical part of the wellbeing of the employees of any organization and therefore, we ensure to invest a lot in the development of our people so it is great to be recognized for the effort we put in." said Kandolo Kasongo, Executive Director and Chief Risk Officer, Union Bank.
Congratulating Union Bank on its effort, Mrs. Dorothy Aroloye, Deputy Director and Area Manager, Lagos Island, Industrial Training Fund, said "For about 3 years of being the Lagos Island Area Manager, Union Bank has shown consistent interest in the development of its workers. The Bank has contributed 6 solid training programs that generated over 6 million Naira to the Industrial Training Fund alone. I salute the training arm of the Bank for their dedication and ITF remains committed to helping Union Bank in the most positive way to further develop their Human Resource."
"We appreciate ITF immensely for this honour, this is indeed an evidence that the Bank's transformation is working. Usually, when the economy gets tough, employers are quick to discontinue training, but that is not what we do here at Union Bank because we believe that the human capital of the bank is the backbone of our success." said Oyinkansade Adewale, Executive Director and Chief Financial Officer, Union Bank. "We promise to continue to partner with Industrial Training Fund to take both Nigeria and the Bank to greater heights through the development of its people."
Also commenting on Union Bank's human development strategy, Miyen Swomen, Head of Human Resources Union Bank, said "Continuous Learning and Career Management are the two key elements of our employee value proposition. We are passionate to work with ITF to continue to train our employees because we believe that what makes an organization successful is what its people know and how it is developed to enable growth."
Established in 1971, ITF is responsible for raising training consciousness in the economy. It has generated a corps of skilled indigenous manpower which is responsible for managing various sectors of the economy.
About Union Bank Plc.
Established in 1917 and listed on the Nigerian Stock Exchange in 1971, Union Bank of Nigeria Plc. is a household name and one of Nigeria's long-standing and most respected financial institutions. The Bank is a trusted and recognizable brand, with an extensive network of over 300 branches across Nigeria. In late 2012, a new Board of Directors and Executive Management team were appointed to Union Bank and in 2014 the Bank began executing a transformation programme to re-establish it as a highly respected provider of quality financial services. The Bank currently offers a variety of banking services to both individual and corporate clients including current, savings and deposit account services, funds transfer, foreign currency domiciliation, loans, overdrafts, equipment leasing and trade finance. The Bank also offers its
customers convenient electronic banking channels and products including Online Banking, Mobile Banking, Debit Cards, ATMs and POS Systems. More information can be found at: http://www.unionbankng.com
About Red Media Africa
Red Media Africa ( http://www.redmediaafrica.com ) is the PR & Empowerment Marketing division under the parent brand, RED.
It focuses on using inspiration, empowerment and action to help brands and organisations connect with their audiences, enhance their bottom-lines and lead in their industries.
It has 6 major practice areas: Corporate Practice, Technology Practice, SME Practice, Governance Practice, Faith Practice and the International Practice - with work for brands across Nigeria, Ghana, Kenya and South Africa.
RED owns the continent's largest portfolio of youth media brands. Its Content Division holds brands across TV, radio, online and events including Y! Magazine,YNaija.com, Rubbin' Minds, #YTech100 and the The RED Summit. It also anchors a development firm, The Future Project, which projects include Africa's leading youth platform, The Future Awards Africa, HowCanIGetInvolved.com and Aiki.ng, which is run in conjunction with Microsoft.‎