Bisi Ibidapo-Obe in messy act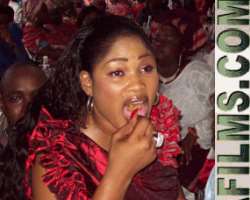 In recent times, she has been a rarity of sorts in most Yoruba movies. And not a few of her far-flung fans are wondering if she is no longer passionate about her first love, acting. But beautiful Bisi Ibidapo-Obe, one of the top actresses in the Yoruba movie industry, may not have bidden farewell to acting because she recently premiered her new movie.
But beyond her acting skill, many do not know that the Osun State-born thespian, popularly called Bisi Omologbalogba, seems to have some difficulty kicking a certain bad habit.
At the 45th birthday thanksgiving party organized in honour of Mr. Seye Kehinde, the publisher of City People magazine, on Sunday, April 25, Ibidapo-Obe left her seat to join a group of guests who were busy 'devouring' some assorted 'small chops'. Anyone who saw her acting the farcical role would have wondered what hastened her feet in the direction of those guests. But it soon became obvious when she got to their midst. She looked unsuccessfully for a seat; and with her gaze fixed on the plates containing the 'small chops', she sat, in her characteristic care-free attitude, on the lap of a young man, picked some pieces of meat, munched them hungrily and left for her seat.
As she meandered her way back to her seat, you couldn't but wonder if she had not come of age.