At 59, I'm ready to shock Nigerians–Onyeka Onwenu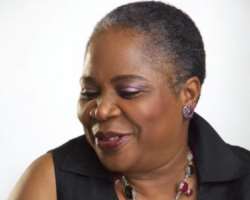 Delectable singer and culture promoter Onyeka Onwenu (MFR) is a household name in the African showbiz circle. Fondly called Elegant Stallion, the musician has been able to inspire many younger Nigerians. Her popular hit-track One Love Keep us Together released in the early '80s, which preached love, peace, and broad-mindedness, is still enjoying airplay in many radio and TV stations.
After completing her education in the United States, Onyeka returned to Nigeria to serve as a board member at the Nigerian Television Authority (NTA) before leaving for music career. Her unique pattern of music won her the Best Female Artiste at the Nigeria Music Award in 1986 and Best Female Artiste in 1989.
Even at 59, this great mother, songbird, politician, broadcaster and an actress, still looks elegant and young. A woman of many parts, Onyeka ranked among the best artistes that Nigeria has ever produced.
In a recent television recently interview, the singer recalled how she joined some of her colleagues to inaugurate the Performing Musicians Association of Nigeria (PMAN) which she served as vice-president. Onyeka equally gave an insight into her love life, her music career, why she joined politics, aside reminiscing on her father who died in a motor accident while she was four years old. She recalled nostalgically, "I wish you knew my father"
Off the stage
Music is not something that you just wake up and start singing. For me, I take time to do my own thing, presently, I am working on an album which is very exhilarating.
African female artistes
I am always proud of people like the late South African, Marian Makeba. I also love our own Asha, Sasha and the rest, they've been promoting African heritage. I just want them to continue with what they are doing
My love for politics
In 2003, I competed for the post of Chairman, Ideato North Local Government of Imo State. That election really taught me lessons. I contested for the post in order to make my people enjoy the dividends of democracy. I belong to the ruling Peoples' Democratic Party (PDP). I am still eyeing the seat.
What NTA should do
NTA needs to re-position itself. The station should be competitive and learn how to treat indigenous artistes with respect. The workers should emulate what MNET and other international stations are doing, I think with that, our own artistes would be encouraged.
My low-cut
I used to have long hair while growing up, but when I was in the US, I permed my hair and it started chopping off, so, I decided to lower it with scissors. That was when I smelt freedom, air could easily penetrate into my head, and ever since then, there was no going back. Nevertheless, I use to admire women, who visit the salon, but I don't think I still have the patience for that any longer.
As a mother
I must confess that God blessed me with a wonderful family. I have lovely children who are all now in the university.
My father died in an auto crash
The memory of my father still lingers in my brain, though I was only four years old when he died but I could remember when he was a member of the then House of Assembly. To me, he was a very charismatic man. He was extraordinarily honest and I was very close to him such that whenever he was going for his political meetings, he would carry me along. But funny enough, when he died in an auto crash, those whom he helped were nowhere to be found, especially those he gave scholarships, and even people he sent abroad. After the demise of my dad, our mum turned us closer to God
As chairman, Imo State Council of Arts and Culture
This appointment gives us collective respect. It's not just about me alone, but about the people I represent. I started out as a journalist on television here in Nigeria, before I crossed into music, so, I see myself representing a whole group of people who are coming after me.
I see myself as belonging to both journalism and theatre because both genres work together; they entertain, inform and at the same time educate the public. My appointment is not about money but mainly service to fatherland. But I'm willing to continue to make that sacrifice so that we can lay a better foundation for the unborn generation
My husband and I
When I was younger, I learnt that love is a virtue that should be celebrated and encouraged in the society. My husband and I have been living happily with our children. I'm a very faithful friend and mother to my husband and children. I've come to observe that, as a Christian, one has to be very passionate
What people don't know about me
I have a lot of plans in stock for Nigerian women, in order to encourage them. I want to assist them discover their latent talents and that was why we organised the Association of Female Musicians (AFEM), which centred on the less-privileged and the physically-challenged people in Nigeria.
Back in the days, women used to make waves in the music industry, but to my greatest surprise; they all began to relegate till I almost became the only one behind. I felt disappointed and I began to approach some of them, we later came together and organized a concert for the children of the Heart of Gold Orphanage under the management of Laja Adedoyin. I remember, at the end of the concert, we gave over N215, 000 and some gift items to the Orphanage.
I'll give Nigeria a shocker
My new album is almost ready; Nigerians are yet to see the other side of me, my best is yet to come