Rams lock horns at Nigeria's national Ram Fighting Championship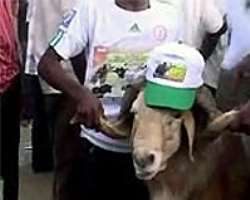 Thousands of city residents flocked to the National Sports stadium in Lagos to watch the much-anticipated fight between Gobe, the reigning national champion, and an unnamed new challenger at the 13th edition of the national ram fighting championships.
Just as the crowd of spectators was getting restless, Gobe arrived with his trainer and a group of die-hard supporters wearing T-shirts bearing the champion's picture and stormed the arena in a scene reminiscent of top prize fighters in the world of boxing.
Draped in a white and green gown, Gobe appeared relaxed and at ease compared to his nervous rivals.
Gobe won the title last year after terminating a ram nicknamed "Obama" -- a ferocious ram, after what Olekan Bayewu, Gobe's owner and trainer described as a "technical knock out".
Before entering the ring this year, men wrestled and boxed in mini competitions that offered a curtain raiser as the headline act Gobe treated himself to a pre-fight snack of mysterious dry leaves, grass and berries.
Once inside the ring, Gobe proceeded to chase several rivals out.
Spectators cheered in delight as he retained the National Ram Fight Championship title for 2010.
Owner Bayewu said Gobe had trained hard, running for two hours each morning, and would retain the national championship title for a long time and had no plans of slaughtering him for meat anytime soon.
"After this fight the ram is going to relax for more than six months. After six months, that is when I will bring it out, by the grace of God," said Bawyewu after the victory which earned the top prize of the tournament - a giant fridge, which his supporters carried home for him.
Most of those who came to watch the ram fight said they found it interesting and would come back again next year.
"It is the first time I have seen ram fight. I think, for me, it is quite exciting," said Linda, a tourist.
Lagos State government organised the event as part of efforts to encourage the youth to take part in sports.
"The aim of organising event like this is to improve social interaction between the youth and the same time encourage the youth to participate in sports," said Mohammed Abdullahi, the event's organiser.
But ram fight competitions, which are popular in various parts of Nigeria, also receive criticsm for attracting gambling and some ram owners and trainers have also been accused of feeding their rams with marijuana to turn them into fearless and furious fighters.