ASSBIFI WARNS BANKS AGAINST WORKERS' DISENGAGEMENT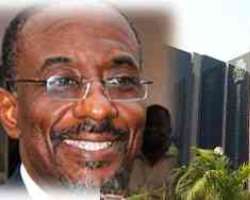 CBN Governor Lamido Sanusi, CBN Headquarters in Abuja (background).
The 2010 Workers' Day celebration has provided another opportunity for the Association of Senior Staff of Banks, Insurance and Financial Institutions to convey a message of warning to employers in the financial institutions to halt the indiscriminate termination of their employees' appointments.
The stern directive, which is part of the association's message to mark the Workers' Day, is not unconnected with the recent job losses that took place in some of the banks, aftermath of the Central Bank of Nigeria stress test, which also witnessed the sack of indicted chief executive officers and the injection of N620bn into some of the banks.
The Secretary-General of ASSBIFI, Mr. Javis Erhomosele, told our correspondent in Lagos on Monday that the association was now prepared more than ever before to close down any bank or financial institution that failed to adhere to the laid down rules governing employer-employee disputes.
According to him, 'The message is always bountiful and uncountable. They should learn to treat workers in accordance with the agreed rules and regulations and in accordance with the rule of law, and no longer on the basis of master servant relationship, which is no longer in vogue for the benefit of all stakeholders.'
He also decried casualisation in the industry and the prevention of employees from belonging to unions, saying they were evils that brought untold hardship to the industry and by extension, the entire national economy because banks remained the pivot of any national economy.
He said, 'No bank, insurance company or any financial institution must disengage workers from service without due process, without following Section 20 of the Labour Act and Article 5D, Part 2, Section 1 of the industry-wide collective agreement, otherwise, my association or union will be ready to close down that bank or institution. Enough is enough of arbitrary disengagement.'
It will be recalled that not less than 7,000 workers from different banks were sacked at the early stage of the CBN stress test as the banks found wanting had to down size in order to stay afloat.
During the exercise, Erhomosele had asked the CBN to be cautious in its action, adding that the wave of retrenchment in the banking sector had nothing to do with reducing cost but a mere ploy by the new chief executives to eliminate, by substituting a handful of workers perceived as not being loyal to them.
He said, in most cases, the sacked workers were replaced with cheaper hands and cronies of the new chief executives.
The retrenchment was alleged to have been aggravated by a directive from the CBN to the eight troubled banks that they should reduce cost, including staff emolument by 30 per cent.