Caroline Danjuma Reveals What Holds her Husband in Bed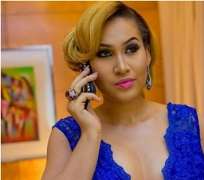 Pretty Nollywood actress, Caroline Danjuma, has been seriously sending tongues waging these days with her backside.
The actress seems to be enjoying the way people talk about her backside and has now make it a duty to always feed them with more pictures of how well structured it is.
The mother of three has really got some bad moves when walking and sure, her backside will attract various attentions when she is walking and the mama is not bothered.
Many have accused her of having her backside tempered with but rather than trade words when anyone over such allegations, she feels the best way is to continue to flaunt what makes her hubby smile at night.